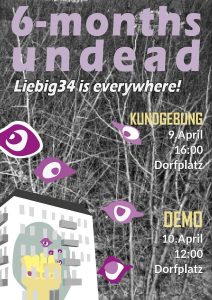 Friday 9 April 2021 – 16:00, rally at Dorfplatz (Friedrichshain), Rigaerstr. Ecke Liebigstr
Saturday 10 April 2021 – 12:00, demonstration from Dorfplatz.
Six months since Liebig 34, as the constellation of the haus on the corner of Liebigstrasse and Rigaerstrasse, ceased to exist. Six months since years of struggle culminated in an eviction in the morning, a riot in the evening, countless other acts of solidarity -including an attack on the ringbahn which left it out of service for days- and ultimately the loss of a global symbol of anarcho-queer-feminism.
But six months on and Liebig lives; in Bristol where last week a demonstration -following the kidnap and murder of Sarah Everard by a Metropolitican police officer- against gendered violence and a new authoritarian policing bill escalated into a night of violence against the police; in London where the same struggle resulted in the occupation of a disused police station; in Mexico City on International Women's day, where militant feminists broke down the fence surrounding the National Palace and set fire to the riot cops' shields; in the last week in Berlin where the eviction of Meuterei and the ongoing threat to Rigaer 94, Potse, Koepi Wagenplatz and other projects saw demonstrating and attacks. With the haus gone Liebig is at once nowhere and everywhere. [Read More]