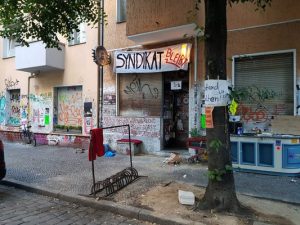 So sorry for our abrupt exit earlier. But the eviction, as foreseeable as it might have been, has taken us all mega hard at the moment of the execution. Hopefully some of you are at Herrfurthplatz right now, for the neighbourhood demonstration after our eviction.
Regardless of that, today is Day X, which means that the angry Sponti of the Interkiezionale will take place at 9pm at Richardplatz. We will evaluate the last few days and get back to you as soon as we have coped with the efforts of the last time.
But tomorrow we will publish all information about our anti-repression structure, because unfortunately the escalation strategy of the cops has led to many arrests and charges. But we deal with it the same way we deal with our fight: together, in solidarity & we don't leave anybody alone! Independent of us, EA and Gesa support will continue to work until everyone is out. Deep thanks from us to all who do this.
We just want to say thank you after these incredibly intense days & weeks! Thanks to all of you who have supported us in so many ways until this day and made sure that we could experience this day at all. Thanks to all the encouragement, the time, the nerves, the know-how, the capacities and our own integrity.
And deepest thanks and respect to all who yesterday and today together with us against the eviction & the shit the cops & senate have put up with it, have shown so much resistance. We will certainly evaluate this in detail, but already now we can say that we all made the best out of the shitty conditions & it was a worthy conclusion of an unbelievable fight. Interior Senator & Cops thought that they were playing knockout by early & extensive siege, but we all showed that we can still take spaces and opportunities to express our disagreement and anger and despite the supposed superiority of having made the cops sweat over and over again.
The day was – in view of the overwhelming superiority & despite the eviction – for the cops, the Senator of the Interior & finally the whole R2G Senate a shame and a disgrace. And with all the sadness the day gives us courage. For the coming, threatening evictions of Meuterei, Potse, Liebig34 and Rigaer94, but also of all other tenants, house communities, small businesses and social projects. And for the possibility of perhaps lifting a Syndikat out of the ruins again sometime and continuing as before: for non-commercial, self-organized and resistant neighborhood culture from below. And for the city for all.
Get up, show your passion & anger tonight & in the future and continue to fight with us for houses, neighbourhoods and cities where we can and want to live together & in solidarity.
The Syndikat is dead – long live the Syndikat.
Syndikat
syndikatbleibt [at] riseup [dot] net
https://squ.at/r/71v
https://syndikatbleibt.noblogs.org/
---
Groups in Berlin https://radar.squat.net/en/groups/city/berlin
Events in Berlin https://radar.squat.net/en/events/city/Berlin
Stressfaktor https://radar.squat.net/de/stressfaktor
Groups in Germany https://radar.squat.net/en/groups/country/DE
Events in Germany https://radar.squat.net/en/events/country/DE
---
Syndikat https://syndikatbleibt.noblogs.org/post/2020/08/07/danke-thank-you/