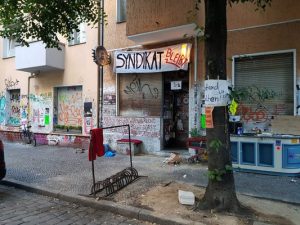 So sorry for our abrupt exit earlier. But the eviction, as foreseeable as it might have been, has taken us all mega hard at the moment of the execution. Hopefully some of you are at Herrfurthplatz right now, for the neighbourhood demonstration after our eviction.
Regardless of that, today is Day X, which means that the angry Sponti of the Interkiezionale will take place at 9pm at Richardplatz. We will evaluate the last few days and get back to you as soon as we have coped with the efforts of the last time.
But tomorrow we will publish all information about our anti-repression structure, because unfortunately the escalation strategy of the cops has led to many arrests and charges. But we deal with it the same way we deal with our fight: together, in solidarity & we don't leave anybody alone! Independent of us, EA and Gesa support will continue to work until everyone is out. Deep thanks from us to all who do this.
We just want to say thank you after these incredibly intense days & weeks! Thanks to all of you who have supported us in so many ways until this day and made sure that we could experience this day at all. Thanks to all the encouragement, the time, the nerves, the know-how, the capacities and our own integrity. [Read More]