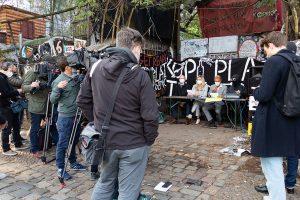 On the 8th of October 2021 we gave a press conference in front of Köpi. Read our statement:
Just a week before the eviction of the Køpi wagenplatz we received the report from the official investigator for signature verificationthat the signature presented at the trial in May 2021 by the supposed owner Yervand Chuckhajyan of the postbox company Startezia GmbH differs from previous signatures and is therefore false.
The falsification, and the fact no one ever saw Mr Chuckhajyan, reinforces our suspicion that the supposed owner of this postbox company does in fact not represent the company and is actually another fraud of the real owner of this postbox company, Siegried Nelhs of SANUS AG.
At the trial also the judge Claudia Wolter noticed the different signatures, criticized the supposed owner for not being present at the trial and questioned his lawyers about their relationship with their client. Nevertheless the judge decided that if Startezia GmbH pays a security deposit of 200.000€ the eviction can go ahead even before our appeal hearing. Again we see that justice is not blind, that the court favours suspicious anonymous postbox companies with enough money over the lives, homes and futures of dozens of people. [Read More]