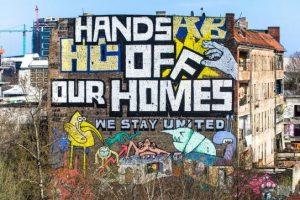 Dear comrades!
We have now received the date for the eviction of Køpi Wagenplatz. On 15 October 2021, at 10:00 AM!
Therefore, we call for action weeks from now on, on one hand to push the topic of the planned eviction massively in the public and to mobilize, on the other hand this should once again give the opportunity to network, to discuss, to learn and to organize.
The action weeks should take place from now until the planned eviction as long and continuously as possible.
For this we need your support!
If you want to organize an info- or discussion event, a workshop or open skill sharing, please write us the dates and publish them yourself on Stressfaktor and other event pages.
Banners can be put up anytime and anywhere, posters and stickers can be put up, flyers can be distributed and soli photos can be published. A drink in your bar/pub could temporarily be called 'Køpiplatz bleibt!' or whatever you can think of, just do it! Also writing solo statements and spreading our info + events, articles and statements help us out!
If you have space in your location for such an event, but don't want to or can't organize anything yourself, you are also welcome to contact us in order to be able to refer other groups without rooms if necessary.
Also groups with event ideas but no location are welcome to contact us.
Greetings of solidarity,
Køpi + Køpiplatz
Köpenicker Straße 133 – 138, 10179 Berlin
https://squ.at/r/d
https://koepi137.net/
https://kopibleibt.noblogs.org/
---
Wagenplatz in Berlin: https://radar.squat.net/en/groups/city/berlin/topic/wagenplatz
Groups in Berlin https://radar.squat.net/en/groups/city/berlin
Events in Berlin https://radar.squat.net/en/events/city/Berlin
Stressfaktor https://stressfaktor.squat.net/
Groups in Germany https://radar.squat.net/en/groups/country/DE
Events in Germany https://radar.squat.net/en/events/country/DE
---
Radar https://squ.at/r/8euk