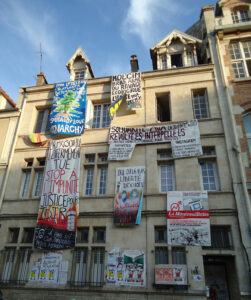 Why defend La Baudrière
La Baudrière is an anarcha-feminist queer* squat that opened in November 2021 in Montreuil (a city located in Paris' suburbs). A lot of people meet here, they come for a few hours, a few days or a few weeks. They came there to live, to learn, to party, to organize. La Baudrière is full of their memories.
Now, eviction is looming, and for us, who use this place in so many different ways, it is time for us to defend this space.
We are calling any non-cis het men to colelctively defend La Baudrière, from the 21st of August onwards.
Here are some of the reasons why we want to resist. Down with the landlords and the evictors, down with the gentrifiers ! [Read More]