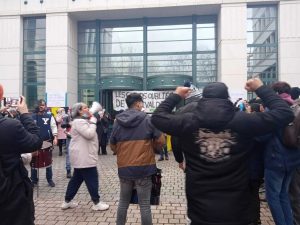 Solidarity rally, Monday 13 December, 14:00
Press release of the Collective Zone Neutre, KBC Occupation

Since last July, thousands of refugees are blocked in Belarus at the gates of Poland. Pushed on one side by the Belarusian forces and on the other by the Polish authorities, without any European intervention to put an end to this tragedy. Hundreds of migrants find themselves in the streets of Brussels, without any help or resources from the competent authorities.
In recent years, several organizations have had to file a series of lawsuits against illegal instructions or practices of the Belgian state in terms of reception. While undocumented citizens and activists take care of finding housing solutions for hundreds of migrants, through actions of occupation of empty houses. While political administrators wash their hands of it.
The authorities have ordered us to leave our place of residence, a building of the KBC bank, which has been empty for years, and subject to land speculation.
The authorities are putting pressure on us, knowing that women and children will end up on the street in the middle of winter.
We deplore this situation, and we hope that the municipality of Molenbeek will find a solution that suits everyone, by putting around the table, the parties concerned by this crisis situation.
We, the Collective Zone Neutre, categorically refuse to leave our place of residence.
We ask the communal authorities to help us find a solution of rehousing for the occupants.
We call on the citizens to come in large numbers to support us.
Collective Zone Neutre
KBC Occupation
Rue du Port n°14
Molenbeek, Belgium
https://squ.at/r/8ibv
---
Some groups linked to migrants https://radar.squat.net/en/groups/topic/sans-papiers
Some squats in Brussels https://radar.squat.net/en/groups/city/bruxelles/country/BE/squated/squat
Some squats in Belgium https://radar.squat.net/en/groups/country/BE/squated/squat
Groups (social center, collective, squat) in Belgium https://radar.squat.net/en/groups/country/BE
Events in Belgium https://radar.squat.net/en/events/country/BE
---
Radar https://squ.at/r/8ibw