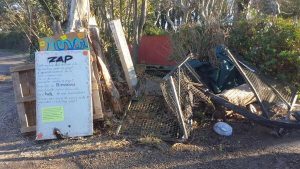 Pertuis (France) – This morning Roger Pellenc carried out his threats at the ZAP (Zone à patates), where we are occupying several houses to fight against a project to extend a commercial zone and the capitalist world that engenders it. A shovel escorted by six municipal policemen came to destroy the gate of the common house as well as the fence and the hedge along the street and seriously damaged the reception hut that we had built in the last few days. All this under the hilarious look of the municipal police.
Some people from the ZAP witnessed these actions, a comrade tried to get between the shovel and the gate. The driver of the machine threatened him and continued his work while putting him in danger. Then the police tried to arrest him. In the morning, prolonging the pressure of the municipal police, a helicopter of the gendarmerie turned a lot around the houses.
We remind you that since the procedure is still in progress, the inhabitants of this house cannot be evicted. This destruction is therefore totally illegal and breaks domestic peace. It demonstrates once again the mafia methods of Roger Pellenc. It confirms to those who still doubt that the police have no shame in acting against the law to serve the interests of an autocratic, all-powerful mayor, ruling like a kingpin over the city of Pertuis.
We will not be intimidated. We will react on all fronts. We will file a complaint. We will rebuild in more solid what was destroyed. And above all we will defend with determination and determination these houses that we occupy.
Today we need support: material, financial for the procedure, and especially, your presence. We need to be more numerous, so we call on all of you to join us at the ZAP. May the force be with us!
La ZAP (Zone à patates)
Pertuis, France
lazapdepertuis [at] riseup [dot] net
https://zappertuis.noblogs.org/
---
Some squats in France: https://radar.squat.net/en/groups/country/FR/squated/squat
Groups (collectives, social centres, squats) in France: https://radar.squat.net/en/groups/country/FR
Events in France: https://radar.squat.net/en/events/country/FR
---