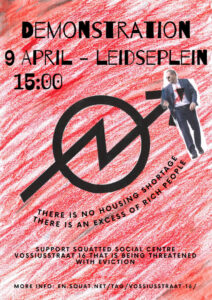 Sunday 9 April 2023, Leidseplein, Amsterdam, 15:00 https://squ.at/r/9c98
On the 12th of April the Vossiusstraat 16 has their second court case, the appeal to the decision that was given in November and which had allowed the squatters to stay.
To show support to the squatters, and in order to voice our disagreement with the the high presence of Yandex in the Netherlands, a demonstration will take place on Sunday the 9th of April. It will start on Leidseplein at 3pm!
Volozh, the billionaire Maltese passport-purchaser, was put on the sanctions list because Yandex promoted Kremlin propaganda and passed on data about activists to the state. All while being registered as a company in the Netherlands. Yandex's news site has in the meantime been bought by the Russian state and now the company thinks they can turn over a bright new leaf as a normal. Since the first court case, Volozh's company Yandex has massively expanded their presence in the Netherlands. Other EU countries have banned Yandex services from operating in their country, but not the Netherlands! [Read More]