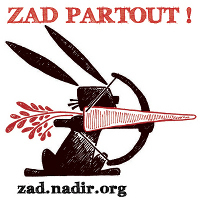 Common press release from the anti-airport movement following the government's announcement
At lunchtime today, the government finally announced that the airport project located in Notre-Dame-des-Landes has been abandoned.
We do note that the "DUP" will not be extended. The project will definitely be null and void by February the 8th.
This is an historical victory against a destructive project. This was made possible thanks to a long mobilisation that has been both diverse and determined.
First of all, we'd like to sincerely thank everyone that mobilised against this airport project over the past 50 years. [Read More]