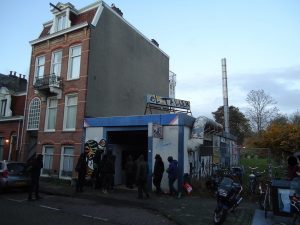 Neighborhood letter spread out during the action:
Dear neighbours,
Through this letter we want to inform you that on Sunday 19th of November we have moved into the former building of Haars JR. garage on Bessemerstraat 23. You might also know it as 'El Taller', which it was named since the place was squatted for half a year in 2013.
As you may have noticed the last years it has become more and more difficult for (young) people to find an affordable living or working space while there is still way too much vacancy. The situation of this building proves it.
After the first time it was squatted the building has changed from an abandoned and ruinous place into a social and decorated place. Despite the fact that the squatters finally revived the building, it was evicted illegally to be again empty for another 4 years. A few plans have been presented by the owner (RVG Woningontwikkeling BV.) but except for the nice murals made by the squatters nothing has changed since the illegal eviction in 2013. It goes without saying that this place deserves better. [Read More]