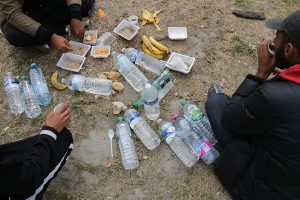 For the judge of the administrative court of Lille, 4 kms on foot to eat, that's fine.
In an order dated September 22, the judge of the administrative court of Lille rejected the request made by 12 local and national associations to cancel the order of September 10, by which the prefect of Pas-de-Calais prohibited any free distribution of drinks and food in certain places in the city center of the municipality of Calais.
The judge stated that the distributions put in place by the State were allegedly sufficient to cover the needs of all exiled people present in Calais, including those sleeping in the city center, considering that "the circumstance that in order to access them, migrants settled in the city center since early August must travel three kilometers is not such as to characterize undignified living conditions".
This assessment is particularly questionable. Indeed, the humanitarian indicators developed either by the UNHCR or within the framework of the SPHERE project, specify, for example, concerning drinking water, that it must be accessible at less than 500m from where people live – the distances in question being in this case between 4 and 5km, which represents an hour's walk one way, and that it is necessary to go to two distributions per day. [Read More]