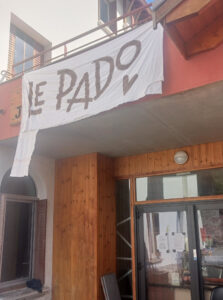 A squat opened in Briançon (France) on Monday, August 7: the Pado, to meet a need for accommodation in the Briançonnais; The institutional and associative structures are currently more than full. We have the idea and the hope to be able to offer a new place of residence for undocumented people, in more livable conditions, because the building is large and made to accommodate many people. For the moment we have neither water nor electricity because they were illegally cut off during a costly action carried out by the council, the national police and the electricity company EDSB, aimed at destroying the electrical infrastructure upstream of the building. They chose to make the building unlivable rather than evict us, forcing us to live in precarious conditions to abandon this place.
We reaffirm the relevance of initiatives outside the institutional or associative framework, as they are too narrow to respond to the scale and complexity of the situation.
Moreover, what bureaucracy imposes is far away from people's real needs. This is why it is necessary to defend and bring this place to life. We appeal to all those who can to come and help us.
Le Pado
34A avenue de la République
05100 Briançon, France
https://squ.at/r/9l3h
Financial support : https://www.cotizup.com/padomaisdessous
---
Refugees related groups: https://radar.squat.net/en/groups/topic/sans-papiers
Some squats in France: https://radar.squat.net/en/groups/country/FR/squated/squat
Groups (collectives, social centres, squats) in France: https://radar.squat.net/en/groups/country/FR
Events in France: https://radar.squat.net/en/events/country/FR
---