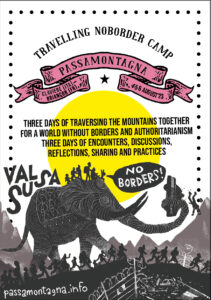 4-5-6 August 2023, travelling NoBorder Camp in Susa Valley, Italy https://squ.at/r/9jj2
Place: Susa Valley – Claviere (ITA) – Briancon (FR)
Three days of traversing the mountains together for a world without borders and authoritarianism!
Three days of encounters, discussions and reflection.
Three days of collective struggle and solidarity.
The Border Machinery
The policies of the European Union and its member states continue to make it deadlier to reach Fortress Europe. Both at sea and in transit countries such as Turkey, Libia and now Tunisia, death is the currency being dealt to those seeking out a better life. The border is enforced internally and externally; having shifted as far south as the Sahel and as far east as Kurdistan.
The Frontex budget is exploding, having risen from €93 Million to €845 million (2023) in just ten years. In the same time frame, the length of EU border fences have grown from 315 km to 2048 km. Novel technologies and intense militarization of the borders have kept arms & technology producers' profits soaring. Those who manage to reach the shores of Europe are kept in servitude, picking the fruit and vegetables for discounters and slaving away in the factories and brothels. They are promised a shot at climbing the ladder, kept as human capital in the service of the economy with the hopes of achieving the golden ticket; asylum or even residence.
Those who don't manage to traverse the bureaucratic Labyrinth course, the sans-papier, the so-called illegals and those who rebel, are crammed into detention centres or deportation prisons. With the new EU migration policy of June 23′, deportations now even loom to random third countries. The logistical network of deportation is expanding, with many new, formerly impossible, deportation destinations now legal under EU law. Yet, despite the mounting repression at the EU borders and within, there are those who, every day, resist against their insubordination and challenge the system. Every 'illegal' border crossing, every uprising inside the detention camps and every struggle against the larger machinery at work is a signal that these structures of domination are not invincible. They are assertions of agency and power, each action a small flare shot toi the sky in the name of life -and against death. This was shown by the fiery uprising in the Turin CPR (Deportation Prison) in 2023, which led to the full closure of the institution.
NoTAV, NoBorders
Billions are being spent in these mountains in an attempt to build the TAV (Turin-Lyon) high-speed rail line; devastating the region in the name of accelerating the transport of goods and people, whilst those without papers are denied freedom of movement. Forced to risk their lives, suffering harassment and raw violence. At least nine people have died on this border. Many have been injured, countless are pushed back. Every day, especially in the summer, dozens of people a day try to cross the border guarded by French and Italian Border pigs.
Beginning of August, we'll be there, at their side.
Passamontagna 2023
Beginning of August, we'll come together, get to know- and acknowledge each other and organize along new lines of struggle! Collectively, we'll cross the border putting into practice what we've been shouting for so long. For the fourth time, the praxis Passamontagna will become manifest; against all borders, internal and external, and the soulless minions that guard them. We'll walk against the murderous Cutro (IT) and Darmain (FR) decrees. Against Deportation, racism, surveillance, against this monstrous world they have built, linked in solidarity and ready for a fight.
Practical Information
The three days are fully self-organized. Passamontagna is not a group, it's a practice. A practice anyone can do and that we hope will also migrate and spread to other borders.
Breakfasts, lunches and dinners will be provided. Bring your own mountain shoes and clothing, tents, sleeping bags and cutlery. Further Info will follow on our website.
Passa Montagna
info [at] passamontagna [dot] info
https://squ.at/r/9jj1
https://www.passamontagna.info/
---
Refugees related groups: https://radar.squat.net/en/groups/topic/sans-papiers
Some squats in Italy: https://radar.squat.net/en/groups/country/IT/squated/squat
Some groups (social centers, collectives, squats) in Italy: https://radar.squat.net/en/groups/country/IT
Events in Italy: https://radar.squat.net/en/events/country/IT
Some squats in France: https://radar.squat.net/en/groups/country/FR/squated/squat
Groups (collectives, social centres, squats) in France: https://radar.squat.net/en/groups/country/FR
Events in France: https://radar.squat.net/en/events/country/FR
---
[Radar https://squ.at/r/9jj2]