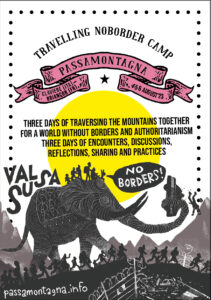 4-5-6 August 2023, travelling NoBorder Camp in Susa Valley, Italy https://squ.at/r/9jj2
Place: Susa Valley – Claviere (ITA) – Briancon (FR)
Three days of traversing the mountains together for a world without borders and authoritarianism!
Three days of encounters, discussions and reflection.
Three days of collective struggle and solidarity.
The Border Machinery
The policies of the European Union and its member states continue to make it deadlier to reach Fortress Europe. Both at sea and in transit countries such as Turkey, Libia and now Tunisia, death is the currency being dealt to those seeking out a better life. The border is enforced internally and externally; having shifted as far south as the Sahel and as far east as Kurdistan.
The Frontex budget is exploding, having risen from €93 Million to €845 million (2023) in just ten years. In the same time frame, the length of EU border fences have grown from 315 km to 2048 km. Novel technologies and intense militarization of the borders have kept arms & technology producers' profits soaring. Those who manage to reach the shores of Europe are kept in servitude, picking the fruit and vegetables for discounters and slaving away in the factories and brothels. They are promised a shot at climbing the ladder, kept as human capital in the service of the economy with the hopes of achieving the golden ticket; asylum or even residence. [Read More]