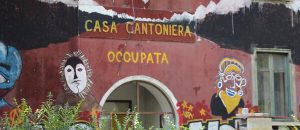 For a year now, the pandemic has disrupted the lives of billions of people, and in the dystopian world where the huge increase in surveillance and control systems is legitimised by the doctrine of war on the virus, where everything is illegal except going to work, the evictions do not stop.
Two and a half years after it opened, the Casa Cantoniera Occupata, the self-managed shelter in Oulx, was evicted.
Inside the House was full of people: the pandemic has never stopped those on the move without the privilege of having a place to stay.
Occupied in December 2018, it was a place created to give solidarity to people who wanted to cross the French-Italian border at the Montgenèvre Pass. A place of struggle and self-organisation, against all borders and military and political devices that seek to control and select. [Read More]