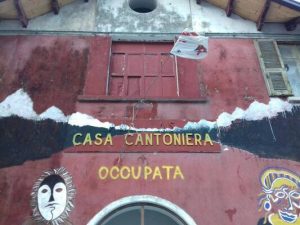 Brutal wakeup this morning at the former cantonal house in Oulx, which became, after the occupation in December 2018, a self-managed shelter for people on the move.
At dawn riot police, digos, fire brigade and Red Cross surrounded the shelter.
The barricades held for an hour and a half. Then, thanks to the intervention of the fire brigade, the police managed to enter the house, where about forty men, women and children were sleeping.
The sympathisers were surrounded and isolated outside the house, and the travelling people were taken to the Red Cross tent for a health check. Then the migrants were moved to the Salesian structure in Oulx and to a nuns' institute in Susa. Those without documents were taken to the Bardonecchia police station. The sympathisers who came in the meantime were kept away.
On the same day, the trial for the occupation of the first self-managed shelter, the occupied basemenmt under the church in Claviere, began.
This eviction is a further step in the process of criminalising active solidarity with migrants. We are well aware that people on the move will continue to try to breach the border. From now on, without support, information, suitable shoes, the already heavy list of lives swallowed up by the border will become even longer.
---
Update from the Casa Cantoniera in Oulx where evictions and racism are being resisted (March 19, 2021)
The self-managed shelter "Chez JesOulx" continues its experience of occupying the Casa Cantoniera, a few kilometres from the border between France and Italy.
A self-managed and self-organised space that supports all those people who are trying to break the borders imposed by Fortress Europe and cross the Alps to reach France.
The Casa Cantoniera has been under eviction threat since its occupation two years ago and is constantly under police repression. Despite this, there is a great deal of solidarity, as well as the determination of those who live there.
---
Wednesday 24 March 2021, 6pm in Torino, public assembly to reorganise
Yesterday the occupied Casa Cantoniera in Oulx was evicted. Inside there were more than sixty people including several families. Despite the pandemic and the red zones, the state once again did not mind throwing people out on the street, in an attempt to destroy solidarity and weaken the struggle at the border. Apart from the usual deployment of digos and various cops, the firefighters who allowed access to the roof and the breaking of the barricades were complicit in this operation. The Red Cross, already involved in the pushbacks at the border, took care of the transport of people to police stations and dormitories between Oulx, Bardonecchia and Susa.
We call a public assembly to reorganise. Today, Wednesday 24 March, at 6 pm in front of Radio Blackout, via Antonio Cecchi 21 / a (Torino).
ex Casa Cantoniera Occupata ChezJesOulx
Via Monginevro 96, SS24
Oulx, Susa Valley, Italy
https://squ.at/r/8321
---
Migrants related groups https://radar.squat.net/en/groups/topic/sans-papiers
Some squats in Italy: https://radar.squat.net/en/groups/country/IT/squated/squat
Some of groups (social centers, collectives, squats) in Italy: https://radar.squat.net/en/groups/country/IT
Events in Italy: https://radar.squat.net/en/events/country/IT
---