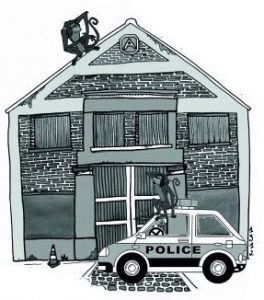 From September 23, Le Marbré will be under eviction threat by the cops, at least until October 5. Many public events will be proposed in the space on this occasion, to make known its activities and to prepare to resist collectively to the eviction.
Le Marbré, a squatted building in Montreuil for a year, is a space for meetings and self-organization, which hosts daily moments of struggle against all forms of domination.
From September 23, 2021 he will risk eviction by the cops, at least until October 5, when a hearing is scheduled before the enforcement judge (JEX) who could decide to give a delay until the winter truce that was granted in the initial judgment. This would ensure that it would continue until April 1, 2022.
During these 12 days of uncertainty we do not want to be left waiting. Many public events will be proposed in the place on this occasion, to make known its activities and to prepare to resist collectively to the eviction. [Read More]