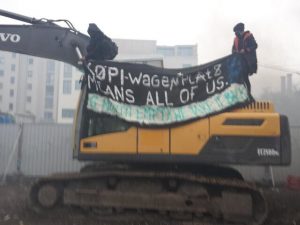 This was not just a piece of land to us. It was our home, it was family, it was a our place to welcome people from all over the world, to learn and support each other, where we could grow and connect. In the most simple and wonderful way, it was our community and our life. But now our family have been split up; and more than anything we want to be back together.
6 months have passed since the bullshit eviction of Køpiplatz and some things still haven't changed; the ground still stays empty, except a couple of hired goons to watch over it, but now it is filled with the wreckage of what was once our homes and lives.
The offer we received from the state and Howoge was not designed to support us, but rather a 'Catch 22′ that would split us up in a variety of unacceptable ways, including an offer to remove 70 percent and leave a slither of land only able to accommodate a couple of trailers. These offers were refused. As a wagenplatz we are all or nothing and we are still a family despite now being forced apart and scattered across Berlin, and we are still searching for a place to be back together.
Once again a wagenplatz directly neighbouring the Køpi building was evicted. The last one was 23 years ago, with the eviction of the Mad Max Wagenplatz, to the right of Køpi. This was for the purpose to build an old persons' home, yet like countless other evictions the land has been left abandoned, and TWENTY THREE years later there is still a shell of a building and an empty site, that can be housing and spaces for many of us. Is that the future for Køpiplatz too?
Just like us the project spaces Meuterei and Syndikat that also still stand empty after their evictions; and Liebig 34 still have not been rehomed, while Rigaer 94 are still facing constant attacks from the state. We are here asking the BIG question.. FOR WHAT?? Why is it that people are losing their homes, spaces, lives and connections to something real? For nothing!?
And these are only a few examples from recent times. We feel we deserve to be treated fairly, and for everyone over the years who have been displaced from their spaces, we demand rehousing, a place for all of our comrades from Berlin and around the world, to continue to create something fabulous and self sufficient.
It is obvious that the tactics over these last years are attempts to dig our movement out from its roots, and to exhaust it with relentless attacks on our way of life. But their tricks won´t work! And our collective anger only brings us to act together, with solidarity and even more fearlessness.
We will not rest or be satisfied until its recognised that you can't just evict us, sweep us under the carpet like we don't exist and we will leave quietly and obediently. No! We remain committed to autonomous spaces, communities and continuing our way of life, no matter what the consequences.
Viva Køpiplatz! Viva all autonomous spaces! One struggle, one fight!
Køpi, Køpiplatz
Köpenicker Straße 133 – 138, 10179 Berlin
https://squ.at/r/d
https://koepi137.net/
https://kopibleibt.noblogs.org/
---
Wagenplatz in Berlin: https://radar.squat.net/en/groups/city/berlin/topic/wagenplatz
Groups in Berlin https://radar.squat.net/en/groups/city/berlin
Events in Berlin https://radar.squat.net/en/events/city/Berlin
Stressfaktor https://stressfaktor.squat.net/
Groups in Germany https://radar.squat.net/en/groups/country/DE
Events in Germany https://radar.squat.net/en/events/country/DE
---
Køpi Bleint https://kopibleibt.noblogs.org/post/2022/04/15/we1/