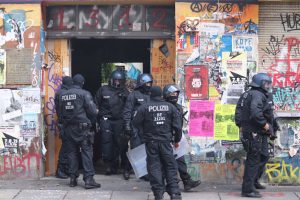 The Berlin cops, today, 06.10.2021 at 7am, wearing their dirty trash-bag uniforms and carrying shields full of color from the resistance on 17th of June and armed, raided our political structure and living space, Rigaer94. Once again, as everyday, the servants of the state fulfill their commands and obey to the capital. The state guarantees the order of the capitalist system, so to squeeze even more profit from people and their living spaces, gain power over every life, destroy any political idea that fights against them and oppress any individual who does not fit to their plans in this capitalistic, patriarchal and racist society. It is clear that the Berlin cops still work with Lafone Investments Ltd. and are their mercenaries, who execute orders of the plan to get rid of Rigaer94 and so to force the gentrification process of Nordkiez, Friedrichshain – after they lost their last attack on us in June this year.
They entered our political structure and house today morning by smashing windows of the side house on 1st floor, destroying once again our doors and even removing the entire wall of one of the flat-doors which was barricaded on the 4th floor front house. They were carrying their useless papers from the court with warrants to identify everyone who is in the house at the moment of entering. They also made drawings of floor plan to check for construction changes. The warrant is based on ASOG. This law makes it easy for the cops to raid and repress political structures and individuals when they want. Officially the aim of the raid is to prepare for eviction trials of all the flats of the house. However, there is no doubt, that the raid is used to weaken our structures and the movement who fights against state and capital, capitalism and gentrification, one week before the eviction of Köpi Wagenplatz (15th October). It is a common tactic which tries to attack and isolate structures and individuals in solidarity with threatened projects, shortly before an announced-planned attack. As it also happened with the eviction of our neighbours L34 last year, when our structure got raided and sieged for some days on July 2020, few months before the Tag-X.
We do not get demotivated, we will not stop supporting each other, we will fight: before, during and after any Tag-X and also without an announced date of an attack coming from state and capital. We stand our political, social and emotional decisions to defend our territories and ideas and be supportive with each other through self-organization and horizontal procedures from inside our structures and in our neighborhoods and streets.
Yesterday all the Gorillaz workers who were on strike got fired and today there are in the streets. We support the workers who fight against capitalism and power. There is a Tag-X when our structures and ideas get attacked, for that it does not matter for us if its a raid in Rigaer94 or if its the fight of the workers who got fired yesterday from Gorillaz company. United we fight against capitalism and power. Let's take the streets today 06.10., 13:00starting at Schönhauser Allee 180.
We call to revitalize the tradition to have open meetings concerning attacks on our structures and therefore call you to come today to NewYorck, Bethanien at 18.00.
Also we will open doors of Ka(d)terschmiede to have food this evening from 8pm to come together and get updated.
We continue fighting as planned, everyday and especially the upcoming days for the struggle around Köpiplatz and all the threatened projects and ideas.
Demo United in Anger – 09.10, 18:00 starting at Dorfplatz in front of Liebig34, which got evicted one year ago, ending in front of Köpi-Wagenplatz.
Support the decentralized action call from Köpiplatz and the Tag-X demo by Interkiezionale on 15.10, 20:00 starting from Zickenplatz, Kreuzberg.
United we fight – we stay ungovernable!
With rage, Rigaer94
Rigaer94
Rigaerstrasse 94, Berlin
https://squ.at/r/49pd
https://squ.at/r/5fm
https://rigaer94.squat.net/
---
Groups in Berlin https://radar.squat.net/en/groups/city/berlin
Events in Berlin https://radar.squat.net/en/events/city/Berlin
Stressfaktor https://stressfaktor.squat.net/
Groups in Germany https://radar.squat.net/en/groups/country/DE
Events in Germany https://radar.squat.net/en/events/country/DE
---
Rigaer94 https://rigaer94.squat.net/2021/10/06/rigaer-94-erstes-statement-zur-razzia-vom-06-oktober-2021/