Housing is not a commodity! Two apartments in the Liebig14 expropriated
"We will not surrender. And even if they drag us out of our homes. We will return. And we will take back what is taken from us."
Words from the Liebig34 on October 9, 2020, at 04:00 am.
Exactly three years ago today, on October 9, 2020, the anarcha queer feminist project Liebig34 was evicted. More than twelve years ago, on February 2, 2011, the house project Liebig14 was evicted. The evictions were attacks on our struggles to shape our lives and places of living in a self-determined way and from below. They were attacks on our collective organizing against sexist violence and capitalist patriarchy.
Exactly today, on October 9, 2023, we expropriated two vacant apartments in Liebig14. We declare them common property of the neighborhood.
We cannot turn back time, but the memory of struggles that were fought lives in our steps today. We draw strength from the awareness of our history, not because we wish the past back but because in what we do today, tomorrow shines through. Because we seek new ways and spaces to put our ideas of self-organization, mutual aid and autonomy into practice.
The previously vacant apartments are to be sold – as in the rest of Liebig14 as well as in the houses Rigaer95 and Rigaer96 – as high-priced condominiums. The so-called owner is the AfD-affiliated company "Hanse Real". Other houses in the neighborhood are also acutely threatened by displacement. Not least the current residents in Liebig34, who act as a temporary solution of Padovicz and rent under miserable conditions until the house will be luxury renovated. The upcoming Amazon Tower in our immediate neighborhood will cause rent and real estate prices to skyrocket. Although several waves of gentrification have already rolled through Friedrichshain's Nordkiez, current developments show that profit logic and the commodification of the capitalist system will never end – unless it is said once and for all:
Housing may be neither property nor commodity but is a basic need! Enough is enough!
Unaffordable housing or rising homelessness is one of the most pressing social issues in cities. The transformation of Berlin into the "capital of digitalization" is being implemented by force. Inflation leads to even tighter budgets for many tenants*, many can hardly afford the housing prices in the inner-city area. Every day there are several eviction suits, apartments are evicted. On Friday, October 13, Reinhard is to be evicted from his apartment at Manteuffelstraße 63 in Berlin-Kreuzberg, where he has lived since 1979. Reinhard is to have his future stolen!
In order to defend the apartments in Liebig14, which were expropriated today, barricades were erected on the street. Our aim is to break through the powerlessness and lack of perspective that is spreading around us. In view of the violent transformation of the city into a concrete desert, we see this as necessary. We send you a sign of liveliness.
Greetings to the squatters in Leipzig two weeks ago! Greetings to the squatters of Habersaath Street!
Instead of isolation, division, domination, exploitation and destruction, we strive for a neighborhood with exchange, solidarity, self-organization, mutual help and activity.
We are angry, we are loud. Nordkiez lives!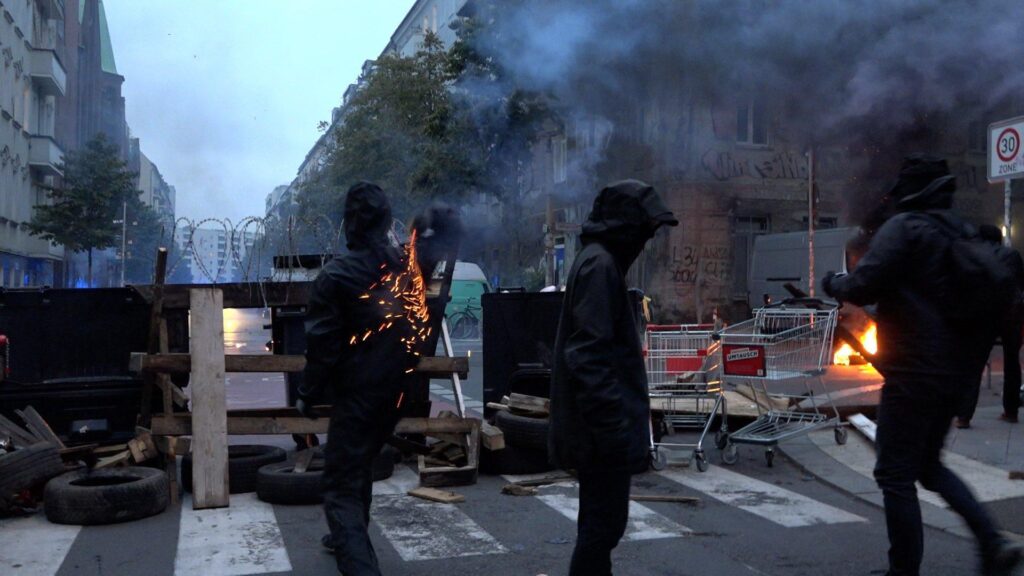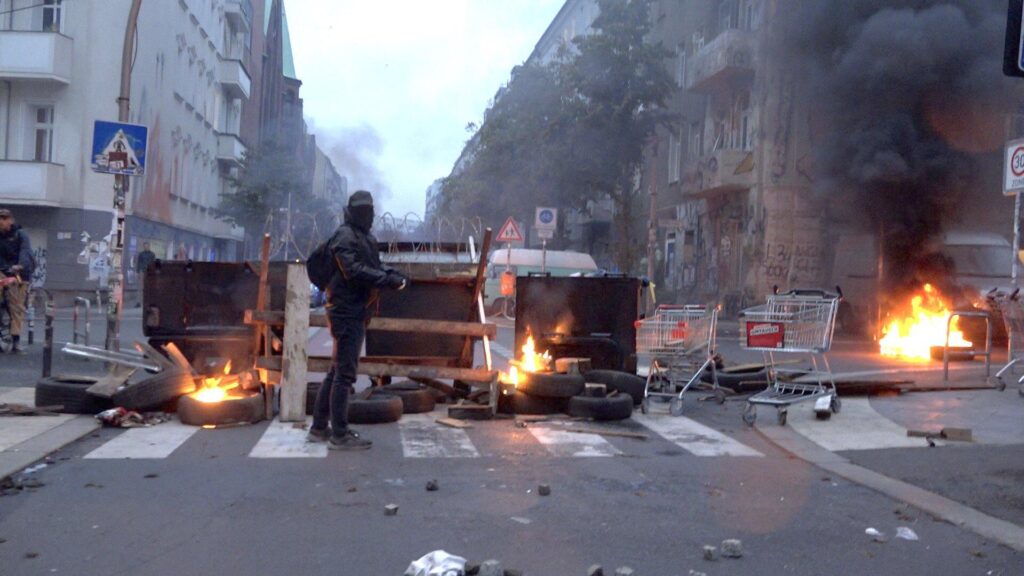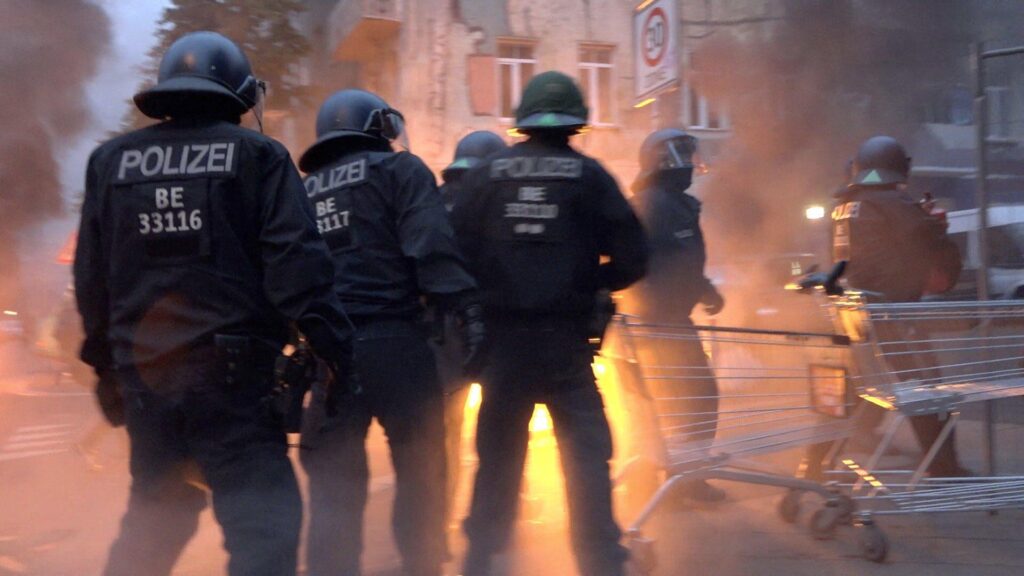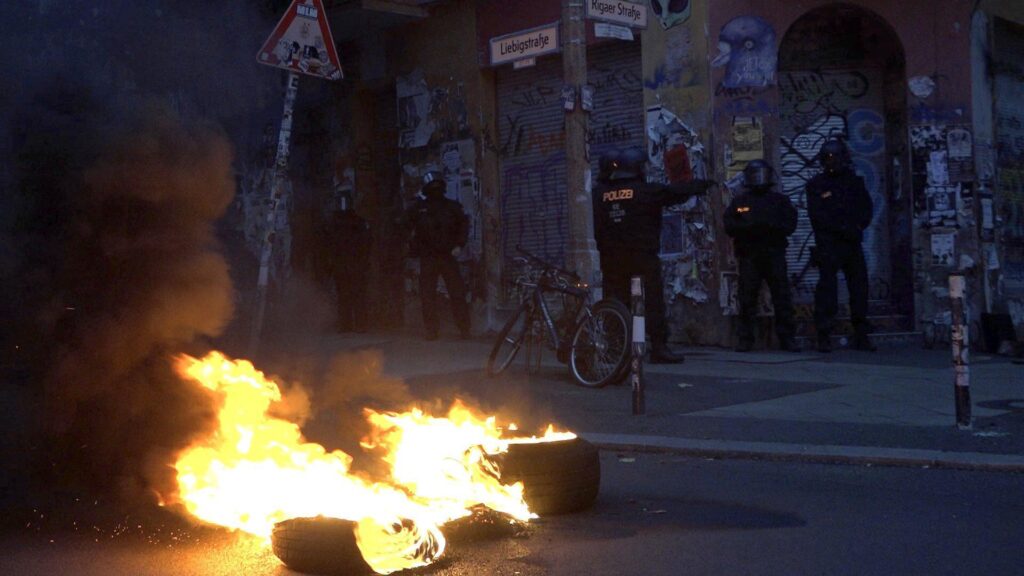 [Source: Kontrapolis, October 9th, 2023. English translation from Athens-Indymedia.]