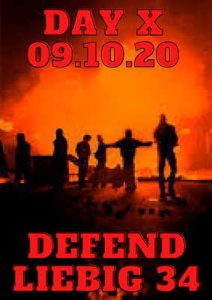 Today, on September 15, we received mail from the bailiff T. Knop. They threatened to evict Liebig34 on Friday, October 9 at 7 am!
We will not let that happen! How is it possible that an attempt to evict is being planned even though it is publicly known that a different association than the defendant is present in the rooms?
How is it possible that in times when a second wave of Corona and #StayHome is expected, a home is to be evicted by so many people?
How is it possible that especially now, in times of fascist marches and a shift to the right, a feminist, leftist and queer house project is being attacked so massively?
We are angry but determined. We will not easily give up the Liebig 34.
Support us in our struggle.
Come to the general assemblies, annoy politicians and homeowners.
Be creative! Let's make the eviction attempt a disaster!
MORE INFOS WILL COME – WE'LL KEEP YOU UPDATED!
Liebig34
Liebigstraße 34, 10247 Berlin
liebig34 [at] riseup [dot] net
https://squ.at/r/4u9p
http://liebig34.blogsport.de/
https://defendliebig34.noblogs.org/
---
Groups in Berlin https://radar.squat.net/en/groups/city/berlin
Events in Berlin https://radar.squat.net/en/events/city/Berlin
Stressfaktor https://radar.squat.net/de/stressfaktor
Groups in Germany https://radar.squat.net/en/groups/country/DE
Events in Germany https://radar.squat.net/en/events/country/DE
---
Indymedia https://de.indymedia.org/node/104092