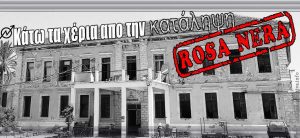 Rosa Nera is an autonomous, anti-authoritarian political collective and since 2004, has squatted and given its name to the historical building that was formerly known as the "5th Army Division", declaring it, for the first time in its history, a liberated space.
The squatted building of Rosa Nera, was built around 1880 by the Turks as a palace for the local pasha. It continued to house different representatives of the authority, the latest being the local military command, during the military dictatorship of Papadopoulos.
In 1985 the building passes from the ministry of defense to the ministry of education, which offers it to the Technical University of Crete, under the condition that it would be used solely for educational activities. Nevertheless, from 1985 till 2004, the building was totally abandoned.
In June 2004, the building was occupied and revived. It was transformed from a ruin that was falling apart, into a political, cultural and social activities center, as well as a house. Everything was accomplished with collective work, collective will and collective financial support. That means that the people did it all, by organizing themselves through horizontal and non-hierarchical procedures.
Rosa Nera squat had organised and operated amongst many other things, an non-commercial cafe-bar, a theater, a clothes exchange bazaar, a children's space, an event and film projection room, a library, a workshop, a guest house, a collective kitchen, and an open vegetable-garden. At the same time, many political and cultural events were taking place, always with a free entrance or voluntary-donation based.
Most importantly, Rosa Nera, as a political group, supported and participated in social and class struggles, always standing in solidarity with the oppressed and struggling people, fighting against any exploitation and oppression, for justice, equality and freedom.
On the 5th of September 2020, after 16 years of active presence in the social and political life of the town of Chania, police forces evict the squat, arrest the people inside and empty the building with the assent of the municipality and the administration of the Technical Universcity of Crete. The reason behind this eviction was the leasing of the building by the university, to a privately owned hotel group (BELVEDERE) in order to turn it into a luxury hotel.
In a town that is suffocating under the unrelenting growth of tourism, where the public space has all but disappeared and during a health crisis that has gravely affected the labour market and has highlighted the catastrophic character of the economic monoculture of tourism, the eviction of Rosa Nera and the plans of turning this historical building into another boutique hotel, seems to be the straw that broke the camel's back.
The struggle is just beginning.
SOLIDARITY WITH ROSA NERA SQUAT
STRUGGLE FOR FREE, NON-COMMERCIAL SPACE
Chania, Greece, 2020
Rosa Nera
rosanera [at] espiv [dot] net
https://squ.at/r/336f
http://rosanera.squat.gr/
---
Some squats in Greece: https://radar.squat.net/en/groups/country/GR/squated/squat
Groups in Greece: https://radar.squat.net/en/groups/country/GR
Events in Greece: https://radar.squat.net/en/events/country/GR
---