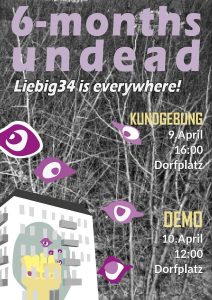 Friday 9 April 2021 – 16:00, rally at Dorfplatz (Friedrichshain), Rigaerstr. Ecke Liebigstr
Saturday 10 April 2021 – 12:00, demonstration from Dorfplatz.
Six months since Liebig 34, as the constellation of the haus on the corner of Liebigstrasse and Rigaerstrasse, ceased to exist. Six months since years of struggle culminated in an eviction in the morning, a riot in the evening, countless other acts of solidarity -including an attack on the ringbahn which left it out of service for days- and ultimately the loss of a global symbol of anarcho-queer-feminism.
But six months on and Liebig lives; in Bristol where last week a demonstration -following the kidnap and murder of Sarah Everard by a Metropolitican police officer- against gendered violence and a new authoritarian policing bill escalated into a night of violence against the police; in London where the same struggle resulted in the occupation of a disused police station; in Mexico City on International Women's day, where militant feminists broke down the fence surrounding the National Palace and set fire to the riot cops' shields; in the last week in Berlin where the eviction of Meuterei and the ongoing threat to Rigaer 94, Potse, Koepi Wagenplatz and other projects saw demonstrating and attacks. With the haus gone Liebig is at once nowhere and everywhere.
With the crisis of late stage capitalism made acute by the corona pandemic, governments globally attempt to strenghten their arsenals in their repression of emancipatory and revolutionary movements. New anti-protest policing bills are proposed in the UK and France and enacted in Greece. Squats and autonomous spaces are evicted in Athens, in Ljubljana and in Berlin. Antifa and the anarchist movement are turned into the USA's internal enemy while the same narrative leads to the arrest of eight anarchists in Barcelona following the protests against the imprisonment of Pablo Hasel.
As a physical space, Liebig 34 is no more; but our ideas and our solidarity are as resilient and adaptable as they are precisely because they do not rely on property. Capitalism may teach us that the value of a hausprojekt is the house itself, but we know and experience that it goes far beyond this. Liebig34 is not the house on Liebigstr. 34, it is what the people made of it. The eviction of the house is a loss because the inhabitants lost their home and because as a society we lost the space it presented. But it is no defeat. The collective Liebig34 may have been founded within the walls of this house, but it doesn't need them to exist. It lives on. And so does everything it stands for. Cultural practice and political organization may need material space, but ideas don't. Our visions go on. And so does our fight. Liebig34 is everywhere because everywhere it is needed. Liebig34 will never die because it will always be needed.
Governmental authorities may believe to silence us by beating us to the ground. But they forget that this is the very reason for us to fight in the first place. The harsher they treat us, the harder we will fight. Because it is not about one specific house. Because it's about the reason it was forced from its people. Because it's about the system of property ownership in general. Because it's about our social structures as a whole. How can we be silent after such an act of violence? How could we ever 'just let it go' when it's about the very essence of our lives? Political work is not a hobby, it is the struggle for a better life. Everything we do is a social interaction, so why would we ever stop caring about how society is structured?
We can't. And that's why we need to get up, once again. We can't afford to stand still. Let us, once again, make clear what we want. Let us, once again, show them that we won't tolerate their violence.
Stay on the offensive. Alerta!
---
Groups in Berlin https://radar.squat.net/en/groups/city/berlin
Events in Berlin https://radar.squat.net/en/events/city/Berlin
Stressfaktor https://stressfaktor.squat.net/
Groups in Germany https://radar.squat.net/en/groups/country/DE
Events in Germany https://radar.squat.net/en/events/country/DE
---