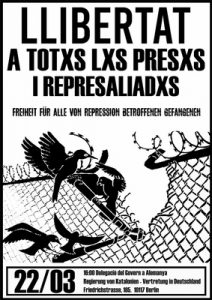 Monday 22 March 2021, 16:00
Meeting point: Delegació del Govern a Alemanya
Regierung von Katalonien – Vertretung in Deutschland, Friedrichstrasse, 185. 10117 Berlin
On February 27, 2021, 8 anarchist comrades* were arrested during the riots in Barcelona, as a result of the protests that have been going on since the arrest of Pablo Hasél. All of them are currently in pre-trial detention without bail. They are accused of criminal organization, attempted murder, unlawful demonstration, attack on authority, damage and public disorder. All this as a consequence of a fire being set at one of the vans of the riot police of the Guardia Urbana of Barcelona, a police organization that has a long history of torture and violence. The media, as a propaganda tool of the State, are justifying the repression against our comrades and infusing fear to stop self-organization and dismantle the protests.
After the Pandora and Piñata police set-ups, it is obvious that we are once again facing an operation to repress an ideological current contrary to capitalist interests. They are condemned because they are anarchists. In this type of set-up, the accusation of belonging to a criminal organization or terrorism is something that is being used to create an internal enemy and justify repression. This allows them to judicialize our lives through police harassment, raids, violation of our personal and political spaces, visits to penitentiary centers, etc. Through this they intend to wear us down psychologically and economically, and thus disarticulate our struggles. [Read More]