[Barcelona-Madrid] Operation of the High Court against the Catalan and Spanish libertarian movement  (in Catalan below) #OperacionPandora to criminalise anarchist social movements.
    [Barcelona-Madrid] #OperacionPandora by the neo fascist PP controlled High Court against the Catalan and Spanish libertarian movement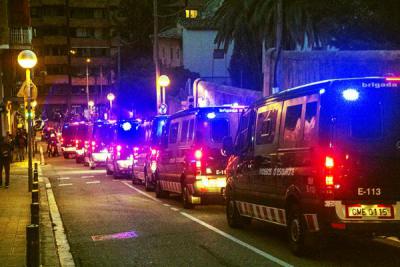 So far over 400 cops from 5.00am have arrested ten people in the city of Barcelona and the historic 25 yr occupied anarchist centre–La Casa de la Muntanya (The house on the mountain) the Anarchist workers centre of St Andreu barrio that of Anarchist Ateneo of Poble Sec neighbourhood as well as a dozen homes.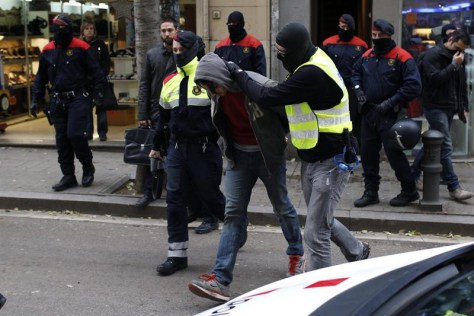 It's an operation of the High Court against the Catalan and Spanish libertarian movement,  against "anarchist terrorists" who haven't actually blown up or hurt anyone, but the raids justify the fascist style public order 'gagging' laws brought in just 2 days ago, against general opposition.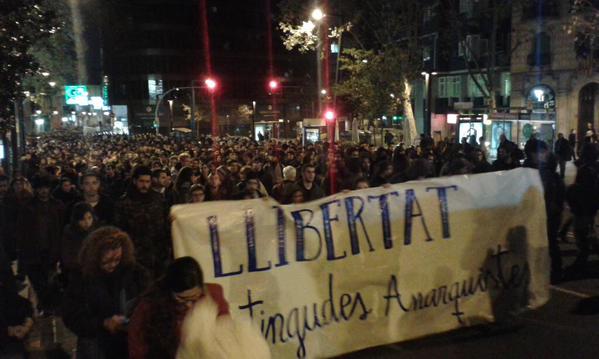 AT KASA DE LA MUNTANYA 2 SMALL KIDS WERE WOKEN AT GUNPOINT, ELSEWHERE AN OLD FOLKS CENTRE WAS RAIDED BY MISTAKE. AT LEAST 16 DIFFERENT PROTEST DEMONSTRATIONS HAVE BEEN CALLED FOR THE EVENING 16TH DECEMBER, WITH SOLIDARITY FAR BEYOND THE ANARCHIST AND OCCUPIER MOVEMENTS.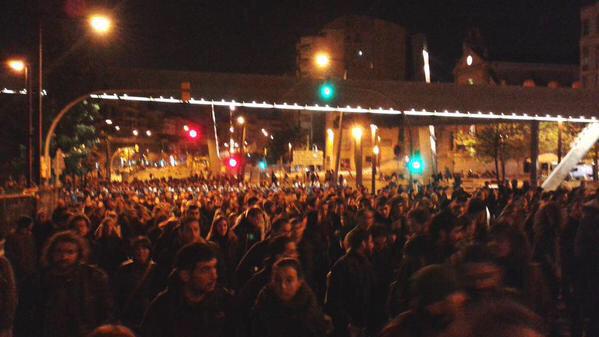 1st solidarity demo – Barcelona
---
Some of the Protest demos already taking place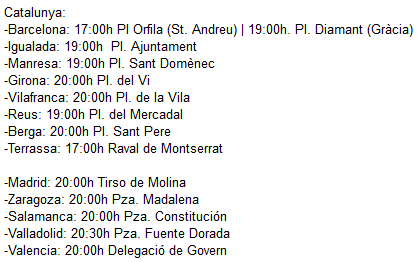 Further Solidarity Demos are being planned
---
The arrested are well known community activists, even including a fireman, and are in no way terrorists, indeed except for some cash dispensers there has been no "terrorist" campaign in Catalunya,  due to general agreement stemming fromn the 15M social movement and the failure of Basque insurgency. The Spanish State is armed with a huge "anti terror" apparatus and laws, used to suppress Basque nationalism, and now tuyrned against innocent anarchists.
All the arrested have apparently been carted off to Madrid 300 miles away.
SEE TWITTER  #OperacionPandora
Reports from La Directa magazine   (from Catalan via Google so…)
At a quarter past five in the morning, 400 Mossos d'Esquadra (catalan local police) mobilized to carry out an operation against the anarchist movement. Fulfilling orders of the Spanish National Court, in an operation ordered by his judge Javier Gómez Bermñudez, agents have raided Kasa Mountain, historical squat in Barcelona which this year celebrates 25 years of activity. The Mossos have busted the main entrance of the house to access it, and at that time, a police helicopter was located over the building illuminating it with a strong focus.
As learned by La Directa twenty inhabitants of the house have been in time to lock themselves  in the gym to stay on the lookout. At the time of the police attack, the building had two children five and six years. The agents have inspected the entire house and have confiscated mobile phones, laptops and all computer devices in their path.
In addition agents have confiscated all types of documents, while numerous tools and home electrical workshop have searched in detail the toys children. By now, the police have allowed to leave the building  two adults and two children, but the other people who were sleeping inside the house before the arrival of police, are still held inside. So far, officials have searched in detail only five rooms, Kasa Mountain is huge, which suggests that the registration will last for many hours.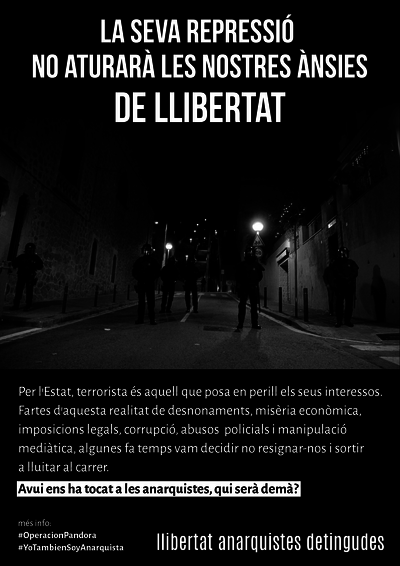 Meanwhile, fifty people have cut for half an hour Travessera de Dalt in Barcelona, in a spontaneous action in solidarity with the squat until the riot agents dispersed them minutes after eight o'clock. Subsequently the solidarity group moved to the Plaza Lesseps where they held a picket.
From the outside of the house, in the neighborhood of Gracia, were heard several firecrackers and you could see in the dark the light of several torches inside the building.
The police operation are the agents of the Information Division of the Mossos d'Esquadra, accompanied by a large number of members of the Mobile Brigade, among other things, make a perimeter exclusion zone that prevents all approach to the house. The Riot Police carried shotguns shells,  Foam,  and identify approaches by the press to cover the news.
Several neighboring reports of police deployed there: at least fifteen armoured vehicles and vans on the street.
Operation ordered by the High Court
So far fourteen arrests have been confirmed  (later it seems only 11) in the city of Barcelona .. in the Nou Barris two, four more in Sant Andreu, two in Poble Sec and two in Gracia. The other four were made in other parts of Catalonia still to be confirmed. One of the arrests were made by a hooded undercover agents in a Fire Station in the city. The police have taken a fireman handcuffed to his home in the Sant Andreu to search the property.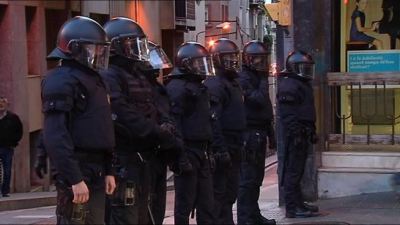 The last arrest might have a home next to the Plaza del Sol Vila de Gràcia, where the Mossos Police carry out a raid right now. Aside from Kasa Mountain, there have been confirmed several more searches. In the district of St. Andrew the Catalan police have registered Libertarian Athenaeum (Anarchist Workers Centre), while in Poble Sec they have done the same at the Ateneo Anarchist.
It has also been confirmed a raid on a home located in Villefranche de Gracia, two in Nou Barris and in Sant Andreu neighbourhood at least two more.
The press section of the Autonomous Police has issued a press release which attributes the assault on  Kasa de la Muntanya in a large police operation under the "Pandora case." In the document the Mossos claim that the High Court has ordered the operation, which is still underway and is being carried out in various towns in Catalonia and Madrid.
According to its target text would "disrupt a terrorist organization of the anarchist character which has carried out several attacks with explosives." Finally, it is stated that several persons arrested for the crime of "belong to a criminal organization for anarchist terrorist purposes."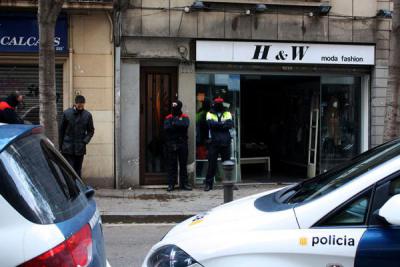 …  second assault on Kasa de la Muntanya
This is not the first time a police have smashed into the interior of the Kasa Mountain. On 18 July 2001, the then representative of the Spanish government in Barcelona, Julia Garcia Valdecasas, ordered the evacuation of the building and sent the Spanish National RiotPolice to the squat, they justified it saying that from the inside of the property assaults were taking place against the agents who wetre evicting the neighbouring squat centre, Can Nyoka, located just in front of the Kasa Mountain. That operation ended in nothing because the police court of Barcelona ordered the withdrawal of agents considering that it was an illegal eviction.
Subsequently, were initiated proceedings against the head of the riot Barcelona, Silverio Blanco, accusing him of theft and illegal eviction. The cause was eventually filed…

https://twitter.com/La_Directa
https://twitter.com/albertmartnez
http://www.naciodigital.cat/noticia/79685/operacio/antiterrorista/al/barri/gracia/barcelona
http://www.lavanguardia.com/sucesos/20141216/54421474789/operativo-de-los-mossos-contra-terrorismo-anarquista.html
original in Catalan
[Barcelona-Madrid] Operació de l'Audiència Nacional espanyola i els Mossos contra el moviment llibertari
Escrito por  La Directa
Fins al moment la policia ha detingut a deu persones a la ciutat de Barcelona i escorcolla la Kasa de la Muntanya, l'Ateneu Llibertari de Sant Andreu, l'Ateneu Anarquista de Poble Sec i una quinzena de domicilis particulars.
Operació de l'Audiència Nacional espanyola i els Mossos contra el moviment llibertariA un quart de sis del matí, un operatiu format 400 agents dels Mossos d'Esquadra s'ha mobilitzat per duu a terme una operació contra el moviment llibertari. Complint ordres de l'Audiència Nacional espanyola, en un operatiu ordenat pel seu jutge Javier Gómez Bermñudez, els agents han assaltat la Kasa de la Muntanya, històrica casa okupada de Barcelona que enguany compleix 25 anys d'activitat. Els Mossos han rebentat l'accés principal de la casa per poder accedir-hi i, en aquell moment, un helicòpter de la policia s'ha situat a sobre de l'edifici il·luminant-lo amb un potent focus. Per arribar a l'edifici, els Mossos han arrencat un arbre i un pivot del carrer per poder accedir amb rapidesa.Segons ha pogut saber la Directa, una vintena d'habitants de la casa han estat a temps de reunir-se al gimnàs per romandre a l'expectativa. En el moment de la irrupció policial, a l'edifici hi havia dos infants de cinc i sis anys. Els Mossos han separat les menors juntament amb el seu pare a la planta baixa, alhora que han pres dues persones de la vintena restant com a testimonis de l'escorcoll. Els agents han inspeccionat tota la casa i han requisat els telèfons mòbils, ordinadors portàtils i tots els aparells informàtics que trobaven al seu pas.A més a més els agents hi han confiscat tot tipus de documentació, alhora que nombroses eines del taller elèctric de la casa i han revisat al detall les joguines de la mainada. A hores d'ara, els agents han permés abandonar l'edifici a dos adults i dues criatures, però la resta de persones que es trobaven dormint a l'interior de la casa abans de la irrupció policial, segueixen al seu interior. De moment, els agents han registrat només cinc habitacions de les múltiples que té la Kasa de la Muntanya, fet que fa pensar que el registre es perllongarà durant més hores.Una desena de BRIMO a l'exterior de la Kasa de la Muntanya / MayuPer la seva banda, una cinquantena de persones ha tallat durant mitja hora la Travessera de Dalt de Barcelona, en una acció espontània i solidària amb la casa okupada, fins que agents antiavalots els han dispersat pocs minuts després de les vuit del matí. Posteriorment el grup solidari s'ha desplaçat fins a la plaça Lesseps on han fet una crida a concentrar-se. Des de l'exterior de la casa situada al barri de la Salut del districte de Gràcia, s'han escoltat diversos petards i es podien veure enmig de la foscor llums de diverses llanternes dins de l'edifici.L'operatiu policial el formen agents de la Divisió d'Informació dels Mossos d'Esquadra, acompanyats d'un gran nombre d'efectius de la Brigada Mòbil que, entre altres tasques, conformen un perímetre a tota la zona que impedeix acostar-se a la casa. Els antiavalots duen escopetes de projectils de Foam i identifiquen a la premsa que s'apropa a cobrir la notícia. Diverses veïnes informen del gran dispositiu policial que hi ha desplegat: almenys quinze furgonetes al carrer Larrard i deu a Sant Josep de la Muntanya. A més a més a un parell de punts de la Vila Gràcia, concretament al carrer Sant Salvador i Ros de Olano, hi hauria més agents.Operació ordenada per l'Audiència Nacional
Fins al moment la Directa ha pogut confirmar catorze detencions. De les catorze persones detingudes es confirma que deu ho han estat a la ciutat de Barcelona: dues a Nou Barris, quatre més a Sant Andreu, dues a Poble Sec i dues a Gràcia. Les altres quatre s'han efectuat en altres punts de Catalunya encara per confirmar. Una de les detencions l'han efectuat agents de paisà encaputxats a un parc de bombers de la ciutat de Barcelona. Els policies s'han endut emmanillat el bomber fins al seu domicili al barri de Sant Andreu per registrar l'immoble. La darrera detenció s'hauria efectuat a un domicili proper a la Plaça del Sol de la Vila de Gràcia, on els Mossos duen a terme un registre a hores d'ara. A banda de la Kasa de la Muntanya, s'han confirmat diversos escorcolls més. Al barri de Sant Andreu els Mossos d'Esquadra han registrat l'Ateneu Llibertari, mentre al Poble Sec han fet el mateix a l'Ateneu Anarquista. També s'ha pogut confirmar l'escorcoll d'un domicili situat al carrer Vilafranca de Gràcia, dos a Nou Barris i almenys dos més a Sant Andreu.
L'àrea de comunicació dels Mossos d'Esquadra ha fet pública una nota de premsa on atribueix l'assalt a la Kasa de la Muntanya a un gran operatiu policial en el marc del "cas Pandora". En la missiva els Mossos afirmen que és l'Audiència Nacional la que ha ordenat l'operatiu, que continua en marxa i que s'està duent a terme a diverses poblacions de Catalunya i la Madrid. Segons el text el seu objectiu seria "desarticular una organització terrorista de caràcter anarquista a la que se li atribueixen diversos atemptats amb artefactes explosius". Finalment, afirmen que ja s'haurien detingut diverses persones pel delicte de "pertinença a una organització criminal amb finalitat terrorista de caràcter anarquista".
Segon assalt a la Kasa de la Muntanya
No és la primera vegada que un cos policial accedeix a l'interior de la Kasa de la Muntanya. El 18 de juliol de l'any 2001, l'aleshores delegada del govern espanyol a Barcelona, Júlia Garcia Valdecasas, ordenava el desallotjament de l'edifici i enviava els antiavalots de la Policia Nacional espanyola a la casa okupada del barri de la Salut. Valdecasas ho va justificar al·legant que des de l'interior de l'immoble s'estaven produint agressions contra els agents que desallotjaven l'habitatge okupat de Can Nyoki, situada just enfront de la Kasa de la Muntanya. Aquella operació va acabar en no res perquè el jutjat de guàrdia de Barcelona va ordenar la retirada dels agents considerant que es tractava d'un desallotjament il·legal. Posteriorment, el jutge de guàrdia va incoar un expedient contra el cap dels antiavalots de Barcelona, Silverio Blanco, acusant-lo de desallotjament il·legal i robatori. La causa finalment va quedar arxivada.
---
Operació de l'Audiència Nacional
Agents de la policia de la Generalitat, mossos d'esquadra, en el marc de l'Operació Pandora, des d'aquesta matinada estan duent a terme un operatiu per "desarticular una organització terrorista de caire anarquista" a la que se li atribueixen diversos atemptats amb artefactes explosius.
Des d'aquesta matinada mossos han detingut a diverses persones pel delicte de pertinença a una organització criminal amb finalitat terrorista de caire anarquista i s'estan realitzant entrades i registres a diversos domicilis, ateneus i locals, alguns d'ells ocupats, vinculats amb les persones d'aquesta suposada organització.
L'actuació policial, de la que és competent l'Audiència Nacional continua en marxa i s'està duent a terme a diverses poblacions de Catalunya així com a la Comunitat de Madrid.
Pel que sembla, algunes de les cases que estàn sent escorcollades son la Kasa de la Muntanya, l'Ateneu Llibertari de Sant Andreu i el de Poble Sec. St. Andreu en estat de Setge
Hi han varies persones detingudes, peró encara no es coneix la seva situació, ni quines son les acusacions.
Tall solidari amb la Kasa de la Muntanya
Un grup de persones s'han apropat al barri de Gràcia i han tallat la Ronda del Mig per mostrar la seva solidaritat.
https://twitter.com/La_Directa
https://twitter.com/albertmartnez
http://www.naciodigital.cat/noticia/79685/operacio/antiterrorista/al/barri/gracia/barcelona
http://www.lavanguardia.com/sucesos/20141216/54421474789/operativo-de-los-mossos-contra-terrorismo-anarquista.html