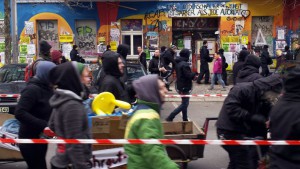 Activists in Berlin warned on Sunday that they would exact €1m in revenge for any more mass police raids on their squats and other 'projects' in the capital, after luxury cars were burned at the weekend.
"With the burning up of excessive luxury cars, the destruction of a surveillance camera and the smashing in of display windows, we refer to the call of autonomous groups on January 21st to cause €1 million of damage for any attack on projects in Berlin," the unknown authors wrote on indymedia.
Yuppies Out
On Friday and Saturday nights, dozens of cars were destroyed ar damaged in the capital by hooded attackers, none of whom were arrested.
The claim of responsibility posted online on Sunday seemed to confirm city interior senator Frank Henkel's belief that "left-wing slobs" were behind the attacks, with the authors saying they would cause €1m of property damage for attacks on left-wing 'projects' in Berlin. [Read More]