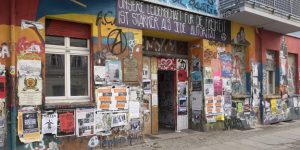 A short call for the reopening of our structures.
Now that the arteries of the capitalist system are again pulsating in the rhythm of production and consumption, we find the re-opening of Kadterschmiede and other common spaces of the projects as important as mentioned in our previous text. [1]
During the "unofficial" lockdown people where pushed to continue going to work or companies found the alternative solution of home office to prevent a breakdown. For almost a month now the industry of education is open again. At the same time the public spaces are under constant attack to prevent political and social interactions.
In times when it's mostly fascists who reclaim the public spheres and the cops try to control every corner of the city, our spaces cannot be kept closed any longer. [Read More]