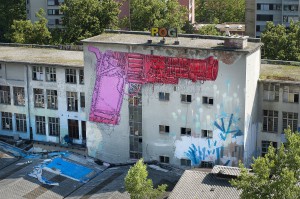 Dear dead revolutionaries,
the dream has shattered and we are still being frustrated by the currents of history.
It has been one hundred years since the scandalous revolutionary powers of the past rose against their feudal overlords, now known as the October revolution. Countries have been torn apart by war and the lords were struck with raw and violent critiques of the working people. Vengeance was sweet and yet perhaps impotent, the war was loss for all we know.
Our frustrations could be thought of as a deep need for reinterpretation, an indignation, a struggle for social justice, a thirst for change. But in the last hundred years all we had was change. Our cities and our bodies, our discourses and work processes went through innumerable changes both wonderful and terrible – most of them irreversible. Revolution has revealed itself to be an ambiguous and yet fascinating concept.
The time has come to light up the furnaces of Rog once again and to take a stand for and with our dead revolutionary companions in the old factory turned autonomous art and social activist squat. Rog's vast size, history and the nature of its fight against the municipality make it the perfect ground for a minimundus where we can meet and debate the current questions of the street, by the street. [Read More]