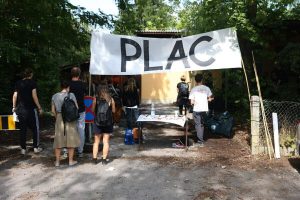 Last Saturday, a new autonomous zone was established in Ljubljana, called the Participatory Ljubljana Autonomous Zone (PLAC). The squat is located at 43 Linhartova Street, behind Bežigrad.
Around 13:00 on Saturday 3rd september, around 100 people entered the abandoned building of the former canteen of the Ljubljana Road Company at 43 Linhartova Street and declared the occupied building an autonomous zone. They wrote that they had created "a space for all those who have been sidelined by the socio-political order and deprived of the infrastructure for their cultural and political participation and the realization of their aspirations". In the hours following the occupation of the empty building, the premises and the surrounding area were cleaned up.
The occupiers explained at the press conference that their motivation was the lack of opportunities to act in an increasingly gentrified city. A lack that has been felt by younger and less emancipated communities in recent years, especially after the eviction of the Rog Autonomous Factory.
The new autonomous space seeks to counter the social trends of privatisation and commercialisation of social spaces, which make universal participation Participatory Ljubljana Autonomous Zonedifficult or even impossible.
After the bankruptcy of Cestnega Podjetja Ljubljana in 2014, the former canteen is owned by DUTB or Slaba Bank. We haven't heard anything from DUTB at the time of writing. The choice of the building carries a symbolic meaning, as the new users explain.
The Autonomous Zone will replace the wasteful management of social property with a program for all. In addition to self-organised cultural events and workshops, a people's library is planned.
The police came to PLAC twice in the past few days. They have applied pressure by collecting personal data of the people around as a preventive measure. Reportedly in case of material damage to the abandoned facility. The new users of the facility, however, recall their pre-election promises to the People's Initiative, in which many parties stressed the importance of autonomous zones and pledged to support new ones.
The re-establishment of an autonomous space gives back to Ljubljana, and especially to the cultural and political margin, the promise of what it lost two years ago. The promise of a non-hierarchical autonomous community gives rise to optimism that alternative self-organization will regain its place in a city that has been subjected to strong gentrification in recent years. However, it is not only the social margins that will have an opportunity in PLAC, but also the ruling political establishment, which may stick to its pre-election promises for a change.
Participativna Ljubljanska Avtonomna Cona (PLAC)
Linhartova 43
Ljubljana, Slovenia
https://squ.at/r/8wlv
---
Some squats in Slovenia: https://radar.squat.net/en/groups/country/SI/squated/squat
Groups (social center, collective, squat) in Slovenia: https://radar.squat.net/en/groups/country/SI
Events in Slovenia: https://radar.squat.net/en/events/country/SI
---
Martin Pečan, Radio Študent https://radiostudent.si/kultura/kulturne-novice/nov-skvot-plac