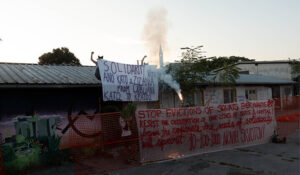 FROM THE CONCRETE THE SEEDS OF OUR SOLIDARITY WILL SPROUT 10-100-1000 NEW SQUATS
The claws of capital and gentrification are already seizing every last space in every city, settlement and piece of nature in the world. Every smallest environment is already polluted by the global system of exploitation. But the market-world keeps turning and big companies are still managing to gain profit through investments and sales, while because of their predation and lust for capital, we, the inhabitants of the world, are the ones facing natural disasters as a result of environmental destruction and global warming.
We the people and the anarchists are struggling to withstand this system aimed towards the oppression of the poor, the under-priviliged, the nature – the others. We stand against exploitation and discrimination of any kind and build communities and resilience opposing the global capitalist system. We stand with the people fleeing their countries because of war and destruction of their living environments. We fight borders and homelessness. We build spaces where violence and discrimination of any kind are not accepted. For this, we are an obvious enemy of the state and capital and the system of domination, they want to maintain.
These weeks we are facing attacks on our autonomous spaces once again. As we are carrying our things out of what used to be Mačjak, before heavy machinery runs it down and builds luxury apartments and offices, we are hearing about the evictions of two Athenian squats, Zizania and Ano Kato that happened on friday morning. While there are fires burning through the country and people dying on its borders, the state of Greece decided to destroy two social centers, where marginalised people could feel free. We reflect similar struggles we face around imaginary borders tied together in reality by the oppressive capitalist and state order that is deeply afraid of solidarity, of mutual care, of free spaces where people from all walks of life can get together and identify their real enemy.
RESIST THE OCCUPATION OF OUR CITIES BY STATE AND CAPITAL – STOP EVICTIONS OF SQUATS EVERYWHERE!
Mačjak
Parmova 1312
Ljubljana, Slovenia
crnemacke [at] riseup [dot] net
https://squ.at/r/8zgy
---
Some squats in Slovenia: https://radar.squat.net/en/groups/country/SI/squated/squat
Groups (social center, collective, squat) in Slovenia: https://radar.squat.net/en/groups/country/SI
Events in Slovenia: https://radar.squat.net/en/events/country/SI
---
Radar: https://squ.at/r/9oyq