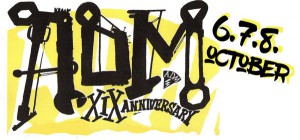 On October 6, 7 & 8 there is a unique chance to take a look inside the ADM.
This squatted community celebrates it's 19th. birthday with a multi-disciplinary-all-flavoured program, which includes dancing, safari & porcelain, circus & puppets and much, much more.
In a city where thinking within existing frameworks, economic interests and clean sidewalks dominate the public domain, the ADM is an alternative community based on solidarity, self-organization, respect, improvisation & innovation.
A place were Anti-conformists walk freely and Dreams still fly around and lay eggs. The ADM is currently under severe legal pressure, but still we present a huge program of international acts.
Not to be missed! [Read More]