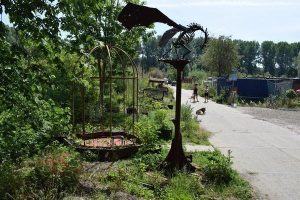 A first update from the Slibvelden crew itself was made public on May 24th 2020. One big part of the former ADM crew relocated at the Slibvelden on Buikslotermeerdijk 95 in Amsterdam Noord. The following statement is published on Indymedia on June 4th by Stichting ADM Leeft, with Hay Schoolmeesters (also Urban Resort, Free Spaces Accord), holding the pen:
ADM community has to pack again!
Almost a year and a half ago, the ADM site was evicted inappropriately. Under the supervision of the municipality, all that was from and dear to the more than 125 residents was completely destroyed by the owner of the site. Part of the close-knit community ended up on the Sludge Fields of the former Water Purification in Amsterdam North. Now this group is forced to relocate on November 1 this year, without any necessity.
At the end of 2018, a motion was passed by the Amsterdam city council, which instructed the college to work with the ADM community to find a definitive location where the community could continue their way of living and livelihood after the sludge fields. The sludge fields were made available to the ADM community for 2 years by means of a tolerance decision. In a recent meeting with the Municipality Noord, it turned out that, despite the motion and despite the fact that no other location is in the picture, the Municipality nevertheless wants to remove the ADM community from the site! [Read More]