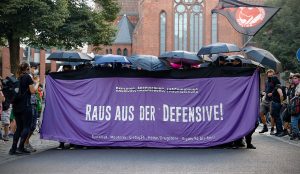 Press release of the Interkiezionale
Berlin, August 3, 2020
On Saturday august 1st, an angry and powerful demonstration took place under the motto "Get out of the defensive". The demonstration was directed against the announced evictions of left-wing projects, such as Syndikat, Meuterei, Potse and Liebig34. It also wanted to send a signal against the shift to the right and the increasingly authoritarian state [1]. The demonstration of 3,000 people (count from 20:18) was attacked and dissolved by the police after a quarter of the demonstration route. Later, an angry spontaneous demonstration moved through Prenzlauer Berg, showing that the police could not stop the protests.
The Interkiezionale coalition of threatened projects and supporters considers the demonstration a success. True to the motto "Get out of the defensive", the active participation of many soldiers made it possible to give the demonstration a resistant expression and not to let the police attacks take away the street. Instead, the demonstration drew attention to places of repression and brought their anger against the everyday structural violence by police and capital to the streets. Places such as the job centre, the SPD office or the luxury new building on Flughafenstraße were targeted.
The projects that were protested on Saturday are also spaces of antifascist resistance [2]. The defence of these projects is connected with the fight against right-wing agitation and ideology, as they were spread by fascists and conspiracy ideologists on Saturday morning. Robyn Schmiz says: "As antifascists we concentrated too much on our demonstration on Saturday, and thus probably weakened the counter protest against the right-wing parties in the morning. The brutal dissolution of our demonstration, in contrast to the treatment of the fascists with kid gloves, however, once again illustrates the political motivation of the police".
For the Interkiezionale coalition the demonstration is only a part of the offensive to prevent the evictions. Already on Thursday, protests against the announced eviction of Syndikat have been called [3]. Within the framework of this offensive there will also be a powerful week of action from September 7 till the 13. The coalition is determined to defend the threatened projects with all necessary means.
[1] Call for a demonstration https://interkiezionale.noblogs.org/demo-01-08/
[2] Antifascist call for the defense of threatened projects: https://antifa-berlin.info/news/1649-alerta-antifascista-aufruf-zur-verteidigung-linker-freirume
[3] Call for day X: https://interkiezionale.noblogs.org/tag-x/
---
Groups in Berlin https://radar.squat.net/en/groups/city/berlin
Events in Berlin https://radar.squat.net/en/events/city/Berlin
Stressfaktor https://radar.squat.net/de/stressfaktor
Groups in Germany https://radar.squat.net/en/groups/country/DE
Events in Germany https://radar.squat.net/en/events/country/DE
---
Interkiezionale https://interkiezionale.noblogs.org/post/2020/08/03/pm-erfolgreiche-demo-trotz-polizeigewalt/