Presentation and discussion about squatting in Croatia, during the Van sistema DIY fest, on 6 October 2018 at the BEK squat in Zagreb: "Our colleague squatter Damir Batarelo will have a presentation about squatting in Croatia, as well as about the squatting scene, its history and context. After his presentation, there will be an open-table discussion so – squatters of the world unite! Come and let us emerge in sharing experiences and let's talk about the foundations of the squatter solidarity network not only in this area, but wider." The festival program: https://squ.at/r/69vf
Call for support by the BEK collective, autonomous space for free social and cultural activities.
When talking about our story, first of all, we want to emphasize that one day, hopefully soon, this will really become OUR story. A story of all included, anyone who wants to participate, a story of a community that builds it's own part of a creative and self-sustainable space, a story of no one left aside. We want to make a new spot for all of us who don't have a place to create and invest their time into, and for us who don't have money or access to social and cultural programs that we can be a part of.
We are BEK collective, a group of enthusiastic young people, emerged from the "Food not Bombs" collective, who squatted an old abandoned school at the beginning of 2018. The building is located in the heart of Croatia's capital city Zagreb. It was built in the 1940's and it has 2500m2 on three floors. From 1950 until recently it was an educational centre for blind and visually impaired children. In the march of 2015 during long needed renovation works that just started it was halted and permanently closed as an educational institution.
The government did not provide adequate solutions for a new building that could satisfy the children's needs nor to stop the further decay of the closed building.
Due to the lack of autonomous spaces in our city that can offer us free content in which we can participate, we occupied a rotting building with the idea of giving it a new life.
Anarchist ideas and values have been the core of our organisation and praxis since the beginning. All of our decisions are made together on weekly assemblies with an open agenda and equal participation. We nourish the idea of an alternative economy based on giving and exchange.
So far, we managed to host a number of social and cultural activities. All of our activities are free and based on donations from people. A group of us also live in the building, so we have already begun work on fixing our house and making sure that it is ready for the upcoming winter.
This is a part of our story where we need you to help us with your donations so we can continue with our free-for-all programs and to start cooperative projects with refugees and homeless people in our community.
Part of the funds collected will be used for fixing and isolating the leaking roof, for repairs of the rooms and ceilings damaged by humidity and mould, and for setting up a heating system in some rooms. (We are talking about 2500m2 of space).
Considering that we depend only on donations and participation, and are completely independent from state policy (like proper anarchists), we still don't have enough money for all the materials and construction work. We want to be completely self-sustainable, with our own renewable energy system, greenhouse and vertical gardens.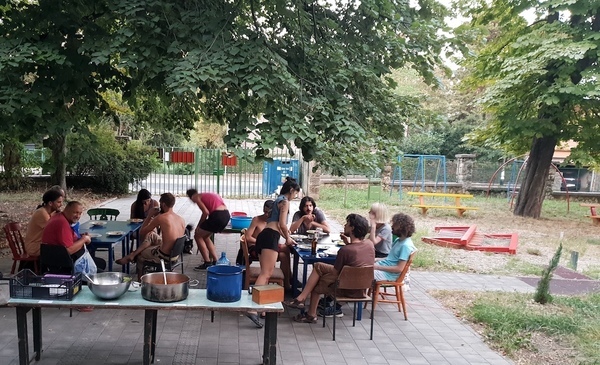 Projects current and future
*Public kitchen – We recycle food from local markets twice a week, and on Wednesdays and Saturdays we invite our neighbours and friends to cook with us, and offer free diner for anyone in need of a warm meal. In the near future, public dinners will be on every day of the week. The costs of gas, oil and dry ingredients are covered by collective donations.
*Open art studio – We offer a free space with materials for artist to come and create, for the paints and materials, for art workshops (cost free for the participants).
*Gallery – We host a gallery open for all types of exhibitions, without prejudice or censorship.
*Library – We collected all sorts of donated books in Croatian, English, Serbian, Bosnian, Hungarian and soon hope to have in other languages based on the needs of the community.
*Free shop – We have a collaboration with local "Students for refugees" on collecting supplies for refugees hot zones in the region, in addition to the regular free shop that we have set up.
*Concert, jams – We promote local bands concerts with guest form all around the world, exchanging culture and good energy, so far we have had bands from Spain, Italy, France… Jams are a great way of making new friends and our roof offers an amazing backdrop for live music. Thanks to our friends we are now making many events with their borrowed equipment, but for us to do it properly we would need to invest in sound equipment (active sound system, mixer, microphones, PAs…).
*Counterculture Cinema – We have been showing movies, but borrowing a projector can be difficult. We are working on setting up an experimental cinema for showing educational, subversive and anarchist materials.
*Garden – We planted a garden this year and watched it grow with us, now we are harvesting the vegetables and to be completely self-sustainable we would like to set up a greenhouse on the roof, so we could keep water away from the damaged roof and grow fresh greens all through the winter. Some materials for the green house we have been recycling. We need to build the construction of a plexiglass roof for the 250m2 green house with water drainage.
*Free alternative clinic – We are connected with people that have experience with running free clinics, people who, like us, believe in a holistic approach to treating illness and traumas. With their help we will learn to run our free alternative clinic with herbal apothecary.
*Homeless shelter – We are in the process of setting up a shelter for the most vulnerable members of our community through the winter. We want them to have a warm place to sleep and shower, eat warm meals and be included in activities and workshops.
*Free workshop space – We believe in DIY and for that we have set up a place for crafts and building, free for anyone in need of space and tools. We want to learn as much as possible and to make our space more functional.
*Donation bar – Cafe 23 will be in our front yard and hall. We imagine it as a place where we can meet with our neighbours, friends and wanderers over a cup of coffee or tea, something that we do here in Croatia.
*Circus theatre – Our gym will be used by different performance and circus groups. We need support beams to build a construction for silk dance and other activities. It will also be used for yoga, martial arts ( self-defence, ninjutsu…) and other sport activities.
* Free classes – We want to host language, art and skills classes, all free of charge, as this space used to be a school. We strive to be a place where the anarchistic community can exchange ideas, knowledge and develop human values.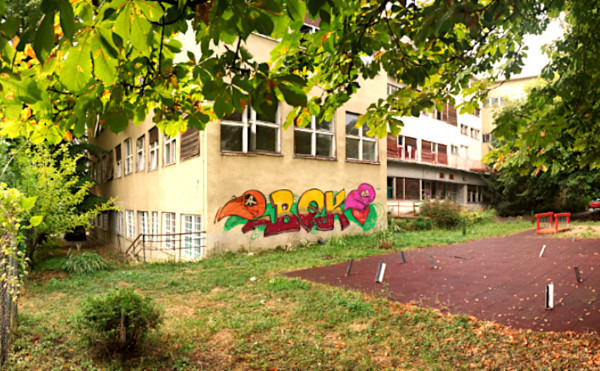 Solar system (for basics; lights, fridge, other devices – panels, batteries and inverters) – 1900€
Rocket stoves – 810€
Other heating infrastructure (small wood stoves, heaters etc.) – 740€
Repairs of damaged space inside the building – 410€
Roof isolation and repair – 750€
Sound system – 1100€
Projector – 300€
Materials for art studio and printing – 300€
LED lightning for the whole building, decorative and scene lightning – 400€
Materials for repairing and repainting the interior – 340€
Gym (Tatami, support beams, boxing bag etc.) ~620€
Glasshouse and garden– 800€
Workshop tools– 400€
Homeless shelter basic needs – 200€
Other equipment and materials- 200€
Unexpected expenses– 400€
Please support us if you see the potential and efforts of the collective – with a donation, materials or come to us and be a part of this project.
BEK kolektiv, 14 September 2018
https://coopfunding.net/en/campaigns/bek-autonomous-space-for-free-social-and-cultural-activities/
BEK kolektiv
Ulica Vladimira Nazora 53
10000 Zagreb, Croatia
bek_kolektiv [at] riseup [dot] net
https://squ.at/r/69vd
https://bekkolektiv.com/
Events in Zagreb https://radar.squat.net/en/events/city/Zagreb
Groups in Zagreb https://radar.squat.net/en/groups/city/zagreb
Groups in Croatia https://radar.squat.net/en/groups/country/HR