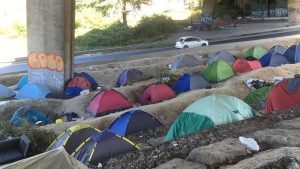 Between 300 and 400 migrants live under the bridge of the A1 motorway in Saint-Denis in totally undignified conditions, only fifteen days after the eviction from the Aubervilliers camp. The associations denounce an absurd situation where evictions and resettlements follow one another without any lasting solution.
At the time of the eviction from the Aubervilliers camp on 29 July, Pierre Henry, the director general of France Terre d'Asile, had said to himself "See you in September", certain that the camp would be re-formed in a few weeks.
We didn't have to wait that long. Less than a fortnight after the eviction of the 1,500 or so people living in the camp, "between 300 and 400" people found refuge under the A1 motorway bridge at Saint-Denis. They are single men, mostly from Afghanistan.
Among them, some "missed the eviction of Aubervilliers, others had an administrative appointment that day and could not be present", says Maël, a member of the association Utopia 56 who did not want his surname to be made public. Among these hundreds of exiles, there are also newcomers who only found this unhealthy place to settle. [Read More]