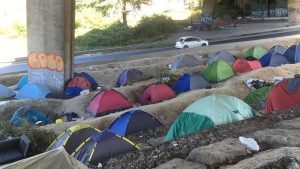 Between 300 and 400 migrants live under the bridge of the A1 motorway in Saint-Denis in totally undignified conditions, only fifteen days after the eviction from the Aubervilliers camp. The associations denounce an absurd situation where evictions and resettlements follow one another without any lasting solution.
At the time of the eviction from the Aubervilliers camp on 29 July, Pierre Henry, the director general of France Terre d'Asile, had said to himself "See you in September", certain that the camp would be re-formed in a few weeks.
We didn't have to wait that long. Less than a fortnight after the eviction of the 1,500 or so people living in the camp, "between 300 and 400" people found refuge under the A1 motorway bridge at Saint-Denis. They are single men, mostly from Afghanistan.
Among them, some "missed the eviction of Aubervilliers, others had an administrative appointment that day and could not be present", says Maël, a member of the association Utopia 56 who did not want his surname to be made public. Among these hundreds of exiles, there are also newcomers who only found this unhealthy place to settle.
"The street is a school for madness as well as indignity."
But, here, rest is only an idea. "Every day, the police tell them that they will come the next day at 6 a.m. to dislodge them, but it's not followed by action," says Maël. A strategy to put the migrants under pressure that makes the lives of these exiles even harder.
Pierre Henry also warns against this strategy of harassment and non-accommodation of migrants: "The street is a school of madness as well as indignity".
A new eviction will eventually take place. In a few days or weeks, when the camp has grown too big. "It will start again as long as the public authorities do not agree to work together with the primary objective of dignity and security for everyone and with the principle of unconditional accommodation," says Pierre Henry.
"Total Failure"
Accommodation for asylum seekers has been underfunded since 2015. However, the 2020 finance bill for the Immigration, Asylum and Integration Mission plans to "halt in 2020 the dynamic of creating places which had made it possible to triple the number of accommodation places between 2009 and 2019", deplored a Senate report on this law in November 2019.
"From the moment you say in the finance law that the objective for 2020 is to accommodate 62% of asylum seekers, you are bound to have a total dysfunction and we admit the abuse of people," said Pierre Henry. And to deplore: "It is the factory of madness, extremes and the demonstration of a public policy that does not work".
---
Refugees related groups in France https://radar.squat.net/en/groups/country/FR/topic/sans-papiers
Some squats in France: https://radar.squat.net/en/groups/country/FR/squated/squat
Groups (collectives, social centres, squats) in France: https://radar.squat.net/en/groups/country/FR
Events in France: https://radar.squat.net/en/events/country/FR
---
Source: Julia Dumont, InfoMigrants https://www.infomigrants.net/fr/post/26626/deux-semaines-apres-l-evacuation-du-camp-d-aubervilliers-des-centaines-de-migrants-de-retour-dans-le-nord-de-paris