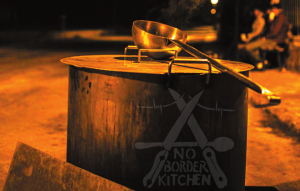 No Border Kitchen Lesvos needs your support! Callout for people in November and December.
We from No Border Kitchen Lesvos (NBK) are going to need people joining us on the island in October, November and December. After holiday season, with the start of the new semester for many people and with the approaching winter we will need helping hands from end of October.
Additionally we got an unpleasant visit from the cops tuesday. According to them our Social Center will be evicted in 5 days. This would make the 4th eviction this year that we have to face.
At the moment we (still) have two main projects. One is cooking for the people who refuse to stay in Moria camp and prefer to sleep rough in the forest instead. The other one is our social center . Everyday a lot of people visit us there to hang out, talk, eat and meet each other. Of course thats not all…we also stand with the people protesting on a weekly basis in Lesvos against the inhuman conditions in Moria camp and for freedom of movement. [Read More]