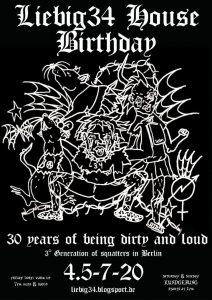 The Liebig 34 will celebrate its 30th birthday at the beginning of July. Eviction titles, media hype and annoying cops don't spoil these days. Viva la Liebig!
Thirty years ago, after the fall of the Wall, people from a wide variety of backgrounds flocked to East Berlin to take advantage of the chance offered by the unresolved chains of command and the unspeakable vacancy. Entire streets and blocks of houses were occupied, redesigned and filled with ideas and creativity. The streets of Friedrichshain were full of life and very practical solidarity. At one corner there was a discussion meeting, in the next open-air cinema and there food was cooked for the whole street.
In these hours also lies the origin of our collective, which entered the rooms of Liebigstraße 34 in July 1990 and thus made the beginning of this project. In the following years a lot changed: the squat became a feminist house project without cis men. Through hard work and years of struggle it was tried to create a shelter and to offer an alternative to the cis-sexist everyday life.
Now, 30 years later, is the project to end?
Even then, the summer of anarchy was ended by brutal evictions by the cops at the behest of major investors, such as in the day-long street battles around the defense of Mainzer Strasse in November 1990.
We had to watch how our sibling project Liebig14 was taken to us in 2011. Only a few of us were able to save ourselves, in whatever way. Too many projects that have shaped the neighbourhood over decades and made it what it is have been (brutally) cleared over the years. This summer, many houses would celebrate their round birthday. 30 years of self-organization, non-conformity and rebellion. We would be happy to celebrate this great day together with our companions. But too many have been removed from the cityscape and defaced into pretty yuppie paradises.
It must not and will not happen to us like this!
We will continue to resist and we will celebrate these 30 years Liebig 34. No eviction and no macho-assholes can stop us.
Come on 04.07. and 05.07. to the Dorfplatz and to Liebig34 for a very interesting program.
Liebig 34 lives and celebrates!
---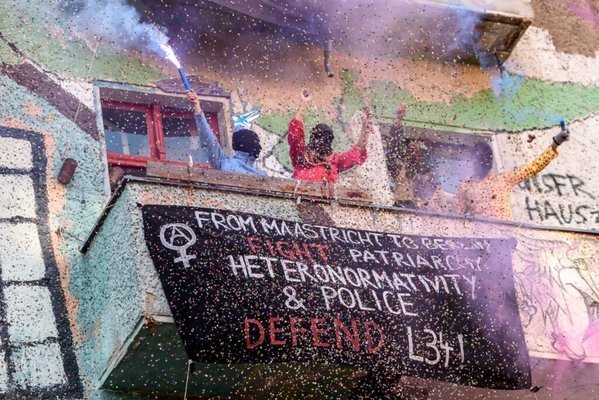 Happy Birthday L34 Let's be careful with each other so we can be dangerous together
Let's get active, creative and bring our rage to the streest with decentralized actions.
On Day X, the Interkiezionale calls for a powerful sponti at 9 pm.
Keep an eye out for announcements!
Liebig34 has a 30 year long and eventful history which is now, 10 years after the Padovicz Group bought the house, is in danger of coming to an end. The handling of housing as a commodity of the capitalist system, has forced evictions, displacement and has become a bitter reality for thousends of people. With a total of over 200 houses only in Friedrichshain, Padovisz company is responsible for eviction, displacement and homelessness and has been very active in solely developing properties for the city of rich.
For us, the value and significance of the house cannot be measured by dirty capitalist figures. Nor can the meaning of the house be replaced by money and power. We see the struggle for the Liebig34 not only as a struggle for the house, and with that as a living space, but also as one for queer-feminist resistance in Berlin and beyond.
Living in patriarchal social order with heteronormative values lead to the oppression and exclusion of people because of their gender identity or sexual desires. The freedom of self-determination of those people get, on a daily basis, threatened and affected not only by structural but also by physical, psychological and economic violence.
The Liebig34 is one of the few remaining autonomous anarcha-queer-feminist houses in Europe.
It organises itself as a house without cis-man (*) and which people from different places, contexts and with different (a)-gender identities collectively live together. They create the space according to their inidividual needs and try to live an anti-patriarchal practice in which conscious space is created for people to define themselves and live out their identity. It is a place where social and kapitalist power structers are questiones and opposed, where queer-feminist resistance and queer-feminist political struggles become visible. Espacially in the last years the Liebig34 has encouraged an autonomous and militant queer-feminist fight, which many people feel addressed and empowered by.
As non-cis-men residents of Rigaer94 we also feel empowered and inspired by our fighting neighbours in Liebig34. We too are fighting against hetero-patriachal and capitalist structures and for Liebig34. The house enriches the neighborhood as a place of social and political struggles, with the küfa and the provision of food donations as well as solidarity with people who are not cis men and need a safe space. It is one of the few space in Friedrichshain which is focused around organizing without cis-men.
Within the radical movement of an anti-capitalist queer-feminist consciousness that focuses on self-dtermination and self-defence, the Liebig34 takes a vital place. Lets fight together for Liebig34!
No matter who threatens the house, it will conitnue to take this place.
Liebig34? Can't touch this!
Let's get active, creative and bring our rage to the streest with decentralized actions.
On Day X, the Interkiezionale calls for a powerful sponti at 9 pm.
Keep an eye out for announcements!
FIGHT LIKE LIEBIG34!
(*) Cis-gender: is a term for people whose gender identity matches their sex assigned at birth.
Liebig34
Liebigstraße 34
10247 Berlin
liebig34 [at] riseup [dot] net
https://squ.at/r/4u9p
http://liebig34.blogsport.de/
---
Groups in Berlin https://radar.squat.net/en/groups/city/berlin
Events in Berlin https://radar.squat.net/en/events/city/Berlin
Stressfaktor https://radar.squat.net/de/stressfaktor
Groups in Germany https://radar.squat.net/en/groups/country/DE
Events in Germany https://radar.squat.net/en/events/country/DE
---
Indymedia https://de.indymedia.org/node/92033
Radar https://squ.at/r/7wu1
Liebig34 http://liebig34.blogsport.de/2020/07/02/30-years-of-liebig-34/
Indymedia https://de.indymedia.org/node/93157