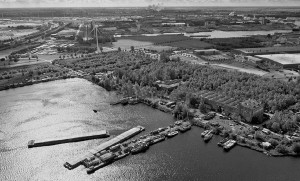 On the edge of an expanding industrial area in Amsterdam called Westpoort, a special development took place.
A group of people created a forest. The forest functions as a natural filter for emissions from local industries. It filters particulate matter, which are small particles of toxic debris and dust from the coal, concrete and petroleum industries located in the nearby area.
On the ADM terrain the trees and plants continually capture these small particles and hold on to them with their leaves and branches until they are washed away naturally by the rain. This is a pollution barrier at work.
The ADM trees also work as a sound barrier to the activity in the industrial freight and coal terminals located in the area. The trees also capture and store CO2 gas. This sound barrier, natural air filter and CO2 storage works every day.
At present the ADM forest forms a direct benefit for the surrounding living areas such as Westzaan and Zaandam, but also for the environment in a much bigger sense. [Read More]