Timeline from Contra Info, see Athens Indymedia for pictures from solidarity demo that reached the area of Evelpidon courts.
[15.36pm] Since the morning of January 12th, few hours before a large solidarity demo took place in downtown Athens, the 92 arrestees from the re-occupation of Villa Amalias were brought before an interrogating judge in the Evelpidon courthouse. Approximately 25 comrades have been released so far, without monetary bail but under the restrictive term to sign up at a police station once a month. The court proceeding will be long.
Meanwhile, solidarity actions for squats and liberated spaces took place in various Greek cities, e.g. in Thessaloniki, Patras, Chania, Rethymnon and Heraklion (on Crete), Mytilini (on Lesvos), as well as on Naxos.
[18.55pm] In Athens, a total of 42 arrestees have been released so far. According to new information, they are obliged to sign up at a police department close to their residence each month, but they are also banned from leaving the country until their trial.
[20.07pm] Another 26 arrestees from the re-occupation of Villa Amalias are now being released; 68 are out on the streets.
Protest rallies were also held in the cities of Trikala, Arta, Preveza, Ioannina, Xanthi and Kozani in solidarity with occupied spaces.
[22.28pm] In Athens courts, all of the arrested comrades have finally been released (on the aforementioned restrictive conditions), accompanied by nearly 250 solidarians.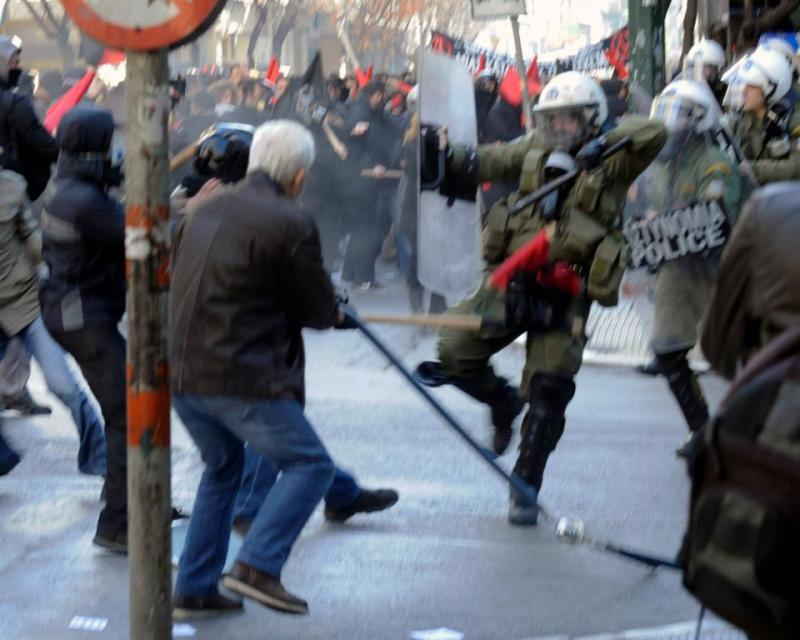 Caption: FIGHT BACK… AT ANY AGE (scene from today's protest demo in Athens)