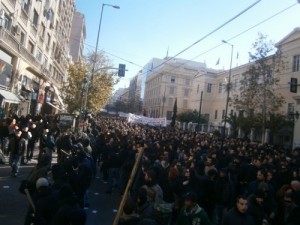 Today takes place a 10,000 people demonstration in solidarity to the 92 people arrested on Wednesday after the re-eviction of Villa Amalias and against the state-run fascism. The demonstration started from Propylaea of Athens University and marched via Patision avenue to the courthouse of Evelpidon where they remain waiting for the decision of the attorney general about the 92 arrested who still are detained. The first 10 were released a couple of hours ago until their trial.
More demonstrations in solidarity to the squats took place in Thessaloniki, Chania, Mitilini, Patra, Heracleon and to other cities.
More photos and videos on Athens IMC.



Published on Occupied London