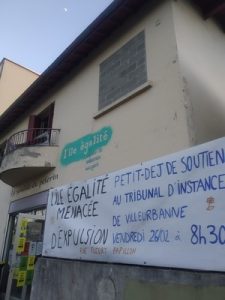 Friday 26 february 2021, gathering and breakfast at 8:30 in front of the court house in Villeurbanne.
The île égalité squat, a place for housing and solidarity of the Collectif Solidarités Cusset, is in danger. After 3 months of existence, renovation, activities and meetings, the survival of the place is threatened by a court decision. Call for support!
After a first postponement, our trial will take place on Friday, February 26th following the lawsuit filed by the Richard Foundation, owner of the building, which demands the immediate eviction of the inhabitants. In a period of extreme cold and in the midst of a health crisis, the Richard Foundation is going so far as to ask that they be deprived of the protection guaranteed by the winter truce!
Since the first confinement, a neighborhood group of residents of Cusset decided to organize themselves collectively to deal with the health and social situation in order to offer concrete solidarity with the most vulnerable: students, the unemployed, undocumented workers, workers, large families, retirees, etc. For four months, they made their contribution in the face of the food and health emergency. They set up distributions of food and hygiene products in the form of a free market, with the support of several city organizations. [Read More]