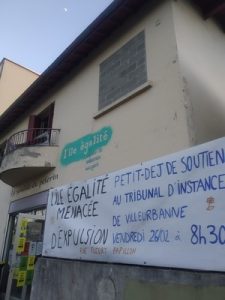 Friday 26 february 2021, gathering and breakfast at 8:30 in front of the court house in Villeurbanne.
The île égalité squat, a place for housing and solidarity of the Collectif Solidarités Cusset, is in danger. After 3 months of existence, renovation, activities and meetings, the survival of the place is threatened by a court decision. Call for support!
After a first postponement, our trial will take place on Friday, February 26th following the lawsuit filed by the Richard Foundation, owner of the building, which demands the immediate eviction of the inhabitants. In a period of extreme cold and in the midst of a health crisis, the Richard Foundation is going so far as to ask that they be deprived of the protection guaranteed by the winter truce!
Since the first confinement, a neighborhood group of residents of Cusset decided to organize themselves collectively to deal with the health and social situation in order to offer concrete solidarity with the most vulnerable: students, the unemployed, undocumented workers, workers, large families, retirees, etc. For four months, they made their contribution in the face of the food and health emergency. They set up distributions of food and hygiene products in the form of a free market, with the support of several city organizations.
During the second confinement, deprived of a location to maintain its activity, the collective moved to a building that has been abandoned since 2015, located at 6, rue de l'égalité in Villeurbanne. Renamed "L'île égalité" (Equality Island), this place provides accommodation for around ten people in very precarious situations. After restoring the premises, the Collective now offers free solidarity activities for the neighborhood's residents: food distribution, laundry, French classes, administrative and legal services, etc. Aware of the health issues at stake, all activities are offered in strict compliance with barrier gestures.
The enthusiastic welcome from the neighborhood's residents during the open houses and various activities demonstrates the necessity and social usefulness of such a place. These solidarity actions are all the more important in view of the difficult health and social situation we are going through, which is having a major impact on the working class neighborhoods.
Today, this collective approach to mutual aid is being undermined by the Richard Foundation, which uses its public image as a social structure to hide the fact that it is actually behaving like any large private landlord. It does not hesitate, in the middle of winter, to put people without housing on the street, while participating in the logic of real estate speculation.
For all these reasons, we are firmly opposed to the eviction of the île égalité squat.
Thanks to your support, the island will resist the storm!
To support us, an online petition to sign and forward around : https://www.change.org/p/juge-des-contentieux-de-la-protection-de-villeurbanne-non-a-l-expulsion-de-l-%C3%AEle-egalite
Collectif Solidarités Cusset
4-6 rue de l'Egalité
69100 Villeurbanne, France
collectif-solidarite-cusset [at] riseup [dot] net
https://squ.at/r/84ck
https://www.solidarites-cusset.org/
---
Some squats in Lyon and surroundings: https://radar.squat.net/en/groups/city/lyon/country/FR/squated/squat
Some squats in France: https://radar.squat.net/en/groups/country/FR/squated/squat
Groups (collectives, social centres, squats) in France: https://radar.squat.net/en/groups/country/FR
Events in France: https://radar.squat.net/en/events/country/FR
---
source: Radar https://squ.at/r/87rx