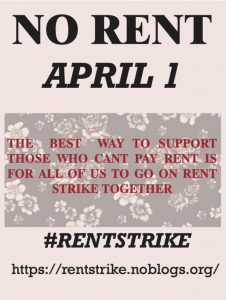 Across the country some have already declared that they will refuse to pay rent on April first. Here are some of their declarations.
Station 40 (San Francisco)
Dear friends of Station 40,
We decided tonight that we're going on rent strike. The urgency of the moment demands decisive and collective action. We are doing this to protect and care for ourselves and our community. Now more than ever, we refuse debt and we refuse to be exploited. We will not shoulder this burden for the capitalists. Five years ago, we defeated our landlord's attempt to evict us. We won because of the the solidarity of our neighbors and our friends around the world. We are once again calling on that network. Our collective feels prepared for the shelter-in-place that begins at midnight throughout the bay area. The most meaningful act of solidarity for us in this moment is for everyone to go on strike together. We will have your back, as we know you will have ours. Rest, pray, take care of each other.
Everything for everyone! [Read More]