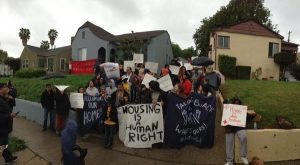 On Saturday, March 14th, a group of supporters mobilized to defend several families, who launched an occupation of a two-bedroom bungalow in the El Sereno neighborhood of Los Angeles, California. Calling themselves "Reclaimers," these new residents are demanding that housing owned by the California Department of Transportation or Caltrans, which for decades has laid vacant, be used to house the houseless in the face of the growing COVID-19 outbreak and continuing housing crisis. The group is inspired in part by Moms 4 Housing in Oakland, California, who led a successful housing occupation in January.
Moving into the home was: [Martha] Escudero and her family moved into the house with Ruby Gordillo, 33, and Gordillo's three children. The Gordillos had been living in a small studio in Pico-Union. Joining the two families in the El Sereno home is Benito Flores, 64, a welder who had been living in his van.
According to Los Angeles Daily News:
One-by-one, the activists filed up a set of front steps in an act of civil disobedience, carrying with them a small writing desk, dining chair, an ornate glass coffee table and other furniture into a two-bedroom house on Sheffield Avenue.
Among them was 33-year-old Ruby Gordillo, who carried a small pot of flowers that she set down on the coffee table. She and her three children live in a cramped, one-bedroom unit in an apartment building in the Westlake Pico-Union area, she said. But for as many days as she is able to, Gordillo plans to call this El Sereno bungalow her new home.
But in the window of the "occupied" home, a piece of paper was hung that read "self-quarantine in process," referencing the practice recommended for people who want to stay isolated from others because they may have the novel coronavirus. No one on site appeared to have the virus; the sign was intended to echo the group's political statement.
She is part of a group, calling themselves the Reclaimers, made up of economically precarious and homeless families and individuals.
The activists demanded that "all unused and empty state, county, city and school district buildings and properties be immediately used to house the thousands of unhoused individuals and families." They modeled themselves after Moms 4 Housing, activists who occupied a vacant home in Oakland for two months until they were forced out by law enforcement.
And with thousands homeless in LA, "we are here to reclaim these homes," said Benito Flores, who is also squatting in the house. "They say it is a crime to occupy these houses, but this is not a crime," said Flores, who lives in his van. "This is justice."
On Saturday, media reports showed supporters carrying furniture and other items into the occupied home and over the course of the next few days, according to organizers and people on the ground who spoke to It's Going Down, the occupation has grown to include at least 12 formerly vacant, Caltrans owned properties.
The units that were occupied are part of a group of 163 homes that currently sit empty and were part of a once much larger stock of dwellings that were bought by Caltrans in the post-World War II period to make way for the construction of the 710 freeway. The project faced decades of steep opposition and in 2018, was abandoned. According to local housing activists, Caltrans has let the housing stock literally "rot," while making it "so difficult for [those] tenants who participate in the affordable rent program that they become frustrated and leave — some [forced] into homelessness."
As the number of occupied homes continues to grow, so does the need for people to show up and support the Reclaimers. To find out more information about the struggle, follow Reclaiming Our Homes.
Meanwhile, there are increasing calls for a rent strike in the face of the economic meltdown caused by the exploding coronavirus pandemic. In working-class Mission District of San Francisco, the long running anarchist housing collective Station 40, which five years ago was successful in beating back their eviction, has declared a rent strike starting April 1st as has Fortnight, a radical, autonomous bar in Providence, Rhode Island.
In Chicago, tenants renting from Mac Properties have demanded the cancellation of April's rent and have threatened a rent strike. As the Hyde Park Herald reported:
"Many of us are students, many of us are workers, and we depend on our work to pay our rents," one tenant and organizer of the action, who asked to remain anonymous, told the Herald. "We're not gonna be able to (pay), so we're trying to get Mac to cancel rent for the month of April."
The organizer said that the demands originated from a group of Mac tenants living in a couple of different buildings, and that "several dozen" people are involved. At the moment, they are calling the Mac offices, 1364 E. 53rd St., and demanding that rents be canceled — according to the organizer, the property management company has told them that there is "not even a consideration to do so."
Meanwhile, the organizer in Hyde Park says the time for transformative political action is now. "If the people do nothing and they don't organize and build power we'll see the same disaster capitalism that we saw after Hurricane Maria," said the organizer.
"Large corporations and entrenched power are only gonna become more entrenched. There's a vision that says we can use this as an opportunity …. I think it's safe to say that in the coming weeks and months we're going to see a massive amount of government intervention into the economy. The question is what kind of intervention (we) want."
Calls for a rent strikes in other states have also gone viral and support is growing for an international rent strike on April 1st, while hubs and infrastructure are being set up in cities like Seattle, WA.
---
Groups in the US: https://radar.squat.net/en/groups/country/US
Events in the US: https://radar.squat.net/en/events/country/US
---
It's Going Down https://itsgoingdown.org/a-dozen-vacant-homes-reclaimed-by-unhoused-tenants-in-la-as-calls-for-rent-strike-grow-across-us/