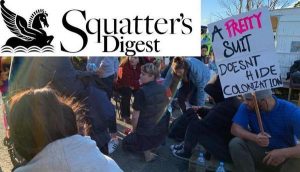 Summer is waning, holidays have been had, and so we all go back to the grindstone — and by grindstone I mean opening new squats. So let's start by taking a look at who needs to open a new building.
Location, Location, Location (That's A Squat Crew Moving Thrice In A Month)
In London, the Church, home to an endless number of benefit parties over the last year, finally met its demise at the hands of the bailiffs just a few weeks ago, leaving a particular void in terms of readily-available squats that are able to host such events (of course it does not escape me how a building can be fairly easily opened just a couple of days in advance of such festivities, but it does entail a whole lot more work). All and sundry are invited to fill this gap, such things are needed as at least one planned fundraiser was scuppered by this eviction.
In a similar area of south-east London, the Charity Shop squat on Deptford High St was re-opened temporarily. Used previously to great effect by the previous crew to organise local action in the neighbourhood, unfortunately the new crew have not been given much time as the owner seems to have gotten his shit together and gone immediately for an Interim Possession Order. [Read More]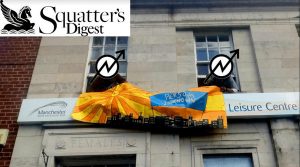 As the riot police continued to batter the last of our barricades, blasting through the structural brickwork of the back entrance to our squat I knew it was time to go. I tried to lug my bookshelf down the stairs to safety, but sadly was forced to leave it behind as I was dragged past the lines of helmets and shields to await my fate in the outside world. Sorry for the delay, but welcome back to Squatter's Digest. Stick around as I try to rattle off all the comings and goings in the squat world over the last couple of months.
So we were finally evicted from our squat in East London, overwhelmed by the riot squad, local bobbies, and high court bailiffs. Two of our number were arrested, although have since been released. In the words of the rossers themselves "apparently it's okay to assault the police these days" (you can taste the bitter sarcasm with which such words were offered). It may be just coincidence, but it does feel like there has been a push by councils in east London (particularly Newham and Tower Hamlets) to rid the borough of squats. In fact at the time of writing there were no less than four squats either going through court or due to be evicted in the week. [Read More]