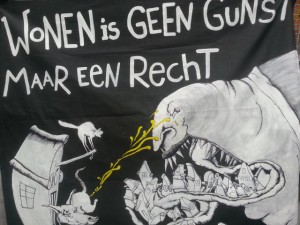 Come out to De Overval, Prins Hendrikkade 138, Amsterdam, to give a big warm sloppy old fashioned welcome to mr. Deurwaarder (the bailiff)! Let's say 'hi', and make sure we say 'bye' to them too.
There's coffee and tea and a rain cover, and actually the rain isn't real too. Solidarity and resistance are! See you on the street.
Update 12:24 The police came by this morning and left after a few minutes! They did not announce a new eviction date but we will keep you posted. Everybody is still welcome for a delayed breakfast, with freeshop and music on the street!!!
Kraken gaat door!
Update 24/09/2015 De overval got evicted yesterday. Nobody was arrested.