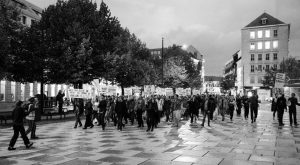 More than 1800 citizens want us to intervene at the city council, but we were gagged. The city does not call itself responsible for the housing crisis. We received the mandate from these 1800 citizens to ask the city council to speak out against the privatization of 't Pand.
We do not intend to remain silent. If participation and democracy are not empty concepts, we must make our voices heard now. Come with us to the City Council. Together we will take the floor and ask:
– Address the housing crisis: no privatization of the property and commons in general
– Through co-creation and participation, provide a public interpretation for 't Pand
– Investigate other financing options for commons than the sale of public heritage.
We will gather at 't Pand, Lange Steenstraat 16, at 18:00 and then head for our board, the city council. [Read More]