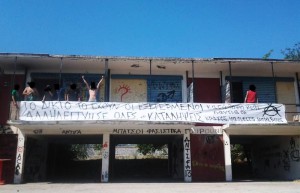 On September 3, the Keli (Cell of Freedom) squat was reoccupied.* This was our short response to the ongoing state repression against anarchists and squatters.
As we have already said, the fight goes on and will continue.
In addition, three more students occupied the empty dormitory cells at the Technological Educational Institute (TEI) of Igoumenitsa. The housing project continues, and we invite all students who have financial problems to do the same.
Shame on academics for bringing the cops into the TEI premises. Shame on cowards who choose to keep silent when faced with state repression.
Solidarity with evicted squats—Villa Amalias squat, and Skaramaga squat in Athens; Delta squat, and Orfanotrofio squat in Thessaloniki; Maragopouleio squat, Parartima squat, and the self-managed hangout of TEI in Patras; Valveios squat in Messolonghi—as well as with the Nadir anarchist hangout in Thessaloniki, Draka squat in Corfu, radio98fm, indymedia, and the hangout in Xanthi… [Read More]