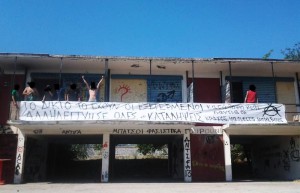 On September 3, the Keli (Cell of Freedom) squat was reoccupied.* This was our short response to the ongoing state repression against anarchists and squatters.
As we have already said, the fight goes on and will continue.
In addition, three more students occupied the empty dormitory cells at the Technological Educational Institute (TEI) of Igoumenitsa. The housing project continues, and we invite all students who have financial problems to do the same.
Shame on academics for bringing the cops into the TEI premises. Shame on cowards who choose to keep silent when faced with state repression.
Solidarity with evicted squats—Villa Amalias squat, and Skaramaga squat in Athens; Delta squat, and Orfanotrofio squat in Thessaloniki; Maragopouleio squat, Parartima squat, and the self-managed hangout of TEI in Patras; Valveios squat in Messolonghi—as well as with the Nadir anarchist hangout in Thessaloniki, Draka squat in Corfu, radio98fm, indymedia, and the hangout in Xanthi…
Comradely greetings and solidarity to Apertus squat in Agrinio, which was attacked again by fascists some time ago, to all antifascists in the same town, and much strength to resisters at the local park, where many trees have recently been uprooted.
The rebels are right, not the snitches and kowtowers.
Solidarity to all those who don't chicken out when faced with state repression, but rather resist and rise up.
anarchist antifascists – published on Indymedia Athens https://athens.indymedia.org/front.php3?lang=el&article_id=1488514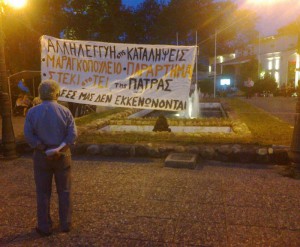 * To sum up the latest anti-squatting crackdown across Greece, during the 2013 summer period alone:
– July 2: Eviction operation and arrests at the dormitory building inside the TEI of Igoumenitsa, where the (re-squatted) Keli squat is situated.
– July 11: Raid on Nadir squat in Thessaloniki during major antiterrorist operation, which led to two pretrial incarcerations.
– August 5: Eviction operation and arrests at three squats in Patras, namely Parartima, Maragopouleio, and the self-managed hangout of TEI; the 5 arrestees from Maragopouleio squat were released, scheduled to appear in court on January 22, 2014.
– August 17: Raid at the Thessaloniki university campus, where cops allegedly found bottles that could be used as Molotov cocktails.
– August 21: Raid and arrests at the Polytechnic School in downtown Athens, where autonomous hangouts are situated.
– August 26: Eviction of the Valveios squat (a former library) in the town of Messolonghi; this squatted space was attacked by fascists in June.
– August 29: Eviction of the Antiviosi squat in Ioannina; arrests at nearby buildings.
– September 2: Eviction operation and arrests at the Orfanotrofio squat in Thessaloniki; the 7 arrestees were released, brought to court on September 6, and acquitted of all charges.
– September 4: Eviction of an occupied house on Lofos Strefi in Exarchia, Athens.
Published on Contra Info: http://en.contrainfo.espiv.net/2013/09/06/greece-keli-squat-which-was-evicted-in-july-re-squatted-in-igoumenitsa/